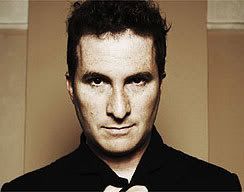 The Guardian is reporting that the next movie filmmaker Darren Aronofsky ("Requiem For A Dream," "PI") will tackle is the biblical tale about Noah's Ark. Considering that his high-minded and super-ambitious, but viscerally polarizing, "The Fountain," contained many religious and existential themes, this news is not totally surprising.

"Noah was the first person to plant vineyards and drink wine and get drunk," Aronofsky told the Guardian. "It's there in the Bible - it was one of the first things he did when he reached land. There was some real survivor's guilt going on there. He's a dark, complicated character."

His failed attempt at the Batman franchise sounded interesting too. "It was a hard, R-rated Batman," he said of his idea. "What I pitched them was [Taxi Driver's] Travis Bickle meets The French Connection - a real guy running around fighting crime. No super-powers, no villains, just corruption. For the Batmobile, I had him taking a bus engine and sticking it in a black Lincoln. Real low-tech geek stuff."

This video feature my old buddies at MTV News/Movies did never got enough play or love. It's a fantastic interview and it made me love Darren Aronofsky all the more. I'm sure we'll discuss the fantastic Clint Mansell/Kronos Quartet (with Mogwai) score at some point too; it's just heavenly. But for now, watch how David Bowie's "Space Oddity" influenced "The Fountain."