Maybe Joan Jett can bring Carmen Electra to the premiere. The story of '70s L.A. girl rockers, the Runaways is in the works. Macabre photographer/video director, Floria Sigismondi (Christina Aguilera, Marilyn Manson, White Stripes, Bowie), is writing and directing what's going to be callled, "Neon Angels" (named after one of their hits). The Runaways were put together by L.A. impresario/scumbag Kim Fowley and their success paved the way for girl group rockers like the Go Go's, Joan Jett's solo career and also facilitated Lita Ford ascendancy to forerunner in the vixen hair-metal genre.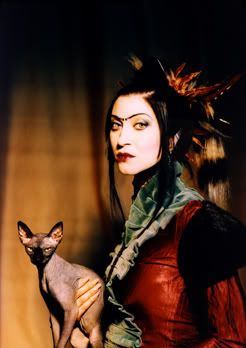 An unpublished memoir written by lead singer Cherie Curie will be used as source material for the film that intends "to bare all the drugs, sex and heartache experienced by girls who struggled to be viewed as musicians, not sex kittens with guitars," says Variety. Apparently it's important to the producers of the film that the movie be an indie with an edgy, R-Rating. Awesome.

But we're excited that Sigismondi is on board. It's about time she scored a real feature. She's been creating amazing videos for over a decade and helped change the music video landscape with her arrestingly dark and foreboding clips (The video she did for Marilyn Manson's "The Beautiful People" had a major visual impact at the time and was copied the world over). She's way overdue for someone to laud her work. We appoint the excellent Director's Series people to do so (note to Palm Pictures, can you make that happen?).

Sigismondi's creepy but beautiful photo book "Immune", featured creepy but beautiful shots of Björk, Aguilera, Robert Smith, a very-pregnant Sigismondi, Leonard Cohen and other maladies and oddities.

Floria Sigsimondi videos:
Sigur Rós - "Untitled"

Tricky - "Makes Me Wanna Die"