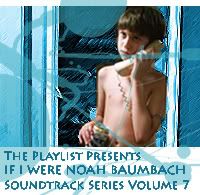 No, this isn't an April Fool's joke. I have this little project called the Playlist Soundtrack Series where I create imaginary soundtracks of directors I like. I call them the, "If I Were______ (insert filmmakers name). I have posted all the original Playlistpre-blog soundtracks I have made here (roughly around the time they were first made).

Here's the newest editions, Volumes 7 & 8: Noah Baumbach and Quentin Tarantino.

If I Were Noah Baumbach: Soundtrack Series Volume 7
01 - Please Patronise Our Sponsors - Jim O'Rourke
02 - Strange - Galaxie 500
03 - Charley's Girl - Lou Reed
04 - I Love You More - The Softies
05 - Slow Loris' Lament (edit) - Black Barry
06 - Coconut - The Sea and Cake
07 - It's Only Life - The Feelies
08 - No One Around - Bert Jansch
09 - Once I Was - Tim Buckley
10 - Posed By Models - Young Marble Giants
11 - The Sun Is Still Sunny - Dean & Britta
12 - Spiegel Im Spiegel (edit) - Arvo Pärt
13 - Green Green Rocky Road - Kate & Anna McGarrigle
14 - Things - Loudon Wainwright III
15 - Blaming the Messenger - Pell Mell
16 - Cars And Parties - Edith Frost
17 - Bloody Mother Fucking Asshole - Martha Wainwright
18 - Ce Matin À Frèmontel (edit) - Emmanuelle Parrenin
19 - I Won't Stay - Po!
20 - Bewitched - Luna
21 - There's Hell In Hello But More In Goodbye (edit) - Jim O'Rourke
22 - Spacy Basement (edit) - Royal City
23 - Carry Me Ohio (edit) - Sun Kil Moon
24 - Comin' Through - The Pastels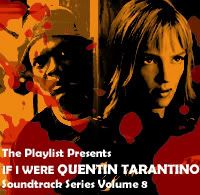 If I Were Quentin Tarantino: Soundtrack Series Volume 8
01 - Oh Girl - The Chi-Lites
02 - Somebody's Been Sleeping - 100 Proof (Aged In Soul)
03 - Me Japanese Boy I Love You - Bobby Goldsboro
04 - Fool In Love - Veltones
05 - Django - Luis Bacalov
06 - Huskie Team - The Saints
07 - Trying To Make A Fool Of Me - The Delfonics
08 - Je M'Appelle Geraldine (Mid-Tempo) - Jean Claude Vannier
09 - That's The Way I Like It (I Like It That Way) - Barbara Lewis
10 - What's More I Don't Need Her - Lee Hazelwood
11 - I Wanna Get Next To You - Rose Royce
12 - Slalom 3 - Ennio Morricone
13 - Searching The Circle - Barbara & Ernie
14 - Bathtub (Skit) - Ghostface Killah
15 - Touche-Moi - Stereo Total
16 - Sentimental Journey - Esquivel
17 - Sideshow - Blue Magic
18 - My Friend Bobby - Pamela Blue
19 - Butter Your Popcorn - Hank Ballard
20 - Thinking - The Meters
21 - Kiss And Say Goodbye - The Manhattans
22 - Outta Space (edit) - Billy Preston
23 - The Burning Of The Midnight Lamp - Rotary Connection
24 - Visa To The Stars - Perrey & Kingsley
Why these two directors? No particular reason. I always have around 10 or so imaginary soundtracks on the go and some fall into place quicker than others; those are the ones I generally focus on as I can see the light at the end of the tunnel.

Baumbach's -- who made the films, "Kicking & Screaming" and "The Squid & The Whale," in case you were unaware -- has a sort of autumnal quality based on moods and tones of his past films (esp. 'Squid') and Quentin's is sort of a mish-mash of all his eras with nods to the outré, obscuro vein he started using around the "Kill Bill" films.

I stress that I'm not necessarily always a fan of all the filmmakers I make soundtracks of, but some of them just lend themselves well to this project, and at the very least, once I've decided on a filmmaker and started working on the project, it's always an interesting exercise and oftentimes a fun challenge.

*Links removed, too many issues with Google.

OK, hope that someone enjoys. Who's next if you happen to care? Good question. Many of the usual suspects are in the works. If you have a suggestion those, please, please feel to put it in the comments section, but note directors that don't really use pop music are going to be somewhat hard to do. There are exceptions to every rule of course, but there's no sense in recycling original scores for a filmmaker that only uses original scores, you know?

That said, I'm still open for suggestions. Please note the artwork I made above is attached to the mp3 files, so those that use Ipods, the artwork should hopefully display for you. If not, download the art of this blog, select all your tracks and add the artwork yourself. It ain't rocket science, but feel free to ask questions.