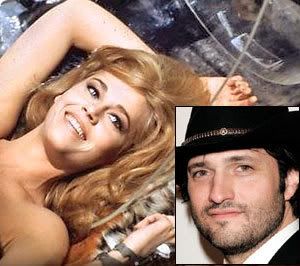 Proving yet again they are fresh out of ideas, Hollywood has enlisted cheap workhorse Mexican director Robert Rodriguez to helm the re-make of "Barbarella," the ridiculous 1968 cult sci-fi extravaganza that starred a then, very-fetching Jane Fonda as a futuristic mercenary (in case you didn't know).

"I love this iconic character and all that she represents, and I'm truly excited by the challenge of inviting a new audience into her universe," Rodriguez said.

Perma-tanned dinosaur (and original producer) Dino DeLaurentis hinted at the remake. "In our vision, the future is female," he said. The script is being written by the two guys the revitalized the Bond franchise with "Casino Royale."
[Variety] Oh, this probably means "Sin City 2" is probably going to have to wait a while isn't it? Pity.