Last night's debut of Guy Maddin's "Brand Upon The Brain!" was an almost overwhelming cinematic spectacle – in a good way of course. Throughout the movie one had to decide, would I be watching the weirdly wondrous film, the 3 lab-coated foley artists creating live, on-the-spot sound effects, the 11-piece orchestra, grave narrator Crispin Glover or the Eunuch-sounding Male soprano? (who Maddin apparently met in a Winnipeg sauna: "He has absolutely no body hair. He had some sort of medical misfortune in his childhood that kept his voice very [woman-like].")

There are worse problems to have. The live silent film extravaganza was an extraordinary and one-of-a-kind experience and the film itself – a surrealistic swirl of German Expressionism, campy Gothic Horror and fairytale dreamstates – managed to be comical, disturbing and magically weird; much like most Maddin films.


Ostensibly an autobiographical look at Maddin's apparently oppressive, incestuous and tragically fucked-up childhood, the story is about a boy (Guy), his life house-based orphanage, his domineering mother, his vampiric mad scientist father and a crime-fighting lady-boy and a strange sort-of-lesbionic relationship.

Clearly Maddin has issues. Wonderfully surreal and enjoyable issues, but issues nonetheless. The conclusion suggests Maddin is coming to terms with family deaths and reconciling the love/hate relationship with tyrannical family members (though his mother is alive and well and very "loving" according to "Brain!" interlocutor Isabella Rossellini).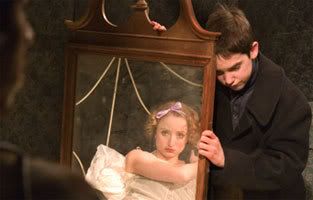 Though of course the story is told through the filter of wild exaggeration or is it? "I didn't grow up in an orphanage, my mother didn't reverse her aging, but everything else is basically there," he told the A/V Club. "My childhood was a little bit Grand Guignol (a general term for graphic, amoral horror entertainment) and horrifying and melodramatic, in the sense that it was very uninhibited."

Is Maddin exaggerating just a little? "My mother just disapproved of my sister growing up, so it led to big confrontation, an all-out war with a lot of collateral damage," he told Coming Soon in a lengthy interview.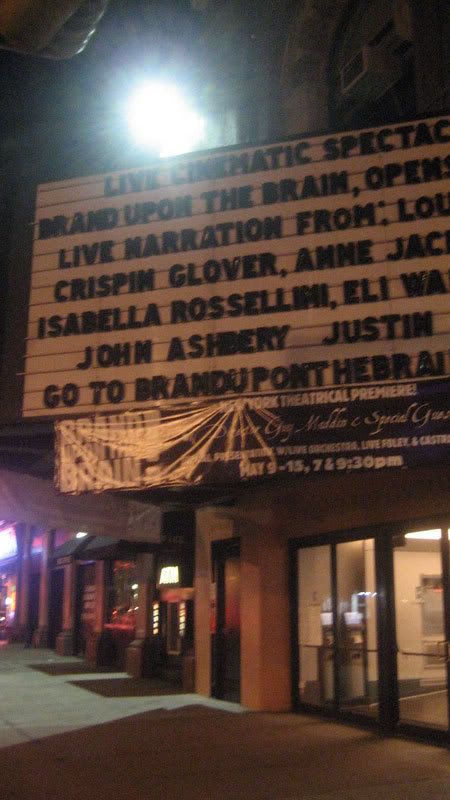 Glover was unexpectedly restrained (aside from a few death-scene shrieks), the score by Seattle's Jason Staczek was delightfully dramatic and watching foley artists make snapping fire sounds with crinkling plastic and bubble wrap was admiringly inventive. If you are in New York, this only runs for 7 days and you would be s stupid, stupid baby to miss this fascinatingly unique event (it also plays in L.A.. Chicago and San Francisco soon).


"I define melodrama as truth uninhibited. It's the kind of truth we dream about. Rather than melodrama being exaggerated, its actually uninhibited. And it's a big difference – people look down on exaggerations, but I think they should look-up to the un-inhibitions." - Guy Maddin via the A/V Club

Everyone is talking about the fantastical "Brain!," including two separate New York Times pieces (here and here) and multiple other film outlets. It is a cineates wet-dream.

The "Brain!" Trailer