As pretentious and fun as you might imagine, the new Blonde Redhead video "Top Ranking" features some nice jazzercise moves. Mills and July are dating, and are pretentiously in love, btw. (Mills directed the feature "Thumbsucker" and his known for his eye-catching videos for Air and Sonic Youth)

Yes, the Interweb is all in a tizzy over this video, however some small detective work on our part has revealed that Mills has actually directed 5 new Blonde Redhead videos in total. All of them with an experimental ben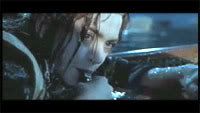 t.
The first one, "23" is undoubtebly illegal art and appropriates liberally from James Camerons' "Titanic" [see the full video here]

"Impure Hair" is one shot presumably in Los Angeles East side o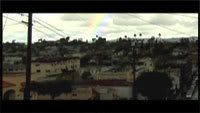 n a gloomy and rainy day (it looks like the Echo Park neighborhood or Los Feliz) that eventually reveals a slowly growing surprise. [see full video here]

"She has dark hair
this time. She's running in a trench coat." The video for "Silently" is just a black screen with white lettered sentences about a black man, a woman, a police officer and their understanding. They are presumably written by July as the stink of her wonderful pretention is redolent. [see full video here] Update: As some astute person in our comments notes: "the text in the video for "Silently" describes Madonna's "Like A Prayer" video shot by shot."

"The Dress" is a collection of images of people's faces in tears,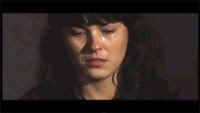 not unlike Mills' documentary, "Does Your Soul Have A Cold?" At first their staring adrift, but as the song grows, their sadness turns to full on tears and despair.[full video here]

The fifth one is the aforementioned "Top Ranking" that is viewed above.

To my knowledge these videos aren't available to the public yet, so watch them before they're taken down. The official (and quite beautiful) video for "23," directed by Melodie McDaniel can be seen here.

Download: Blonde Redhead - "Top Ranking"
Download: Blonde Readhead - "Silently"