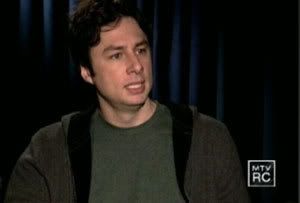 Ok, so if feel-good milquetoast Zach Braff's "Scrubs" TV show gets the axe (which apparently could happen), his next project is going to be an adaptation of... a Dogme '95 film? (Dogme '95 being the painstakingly authentic manifesto created by a group of Danish directors who adhered to stringent rules of natural lighting, hand-held camera and other willful handicaps that prevented their films from being good).

According to MTV Movies (and my nerdy interviewer friend Monty; hi mom!), if "Scrubs" gets deepsixed, Braff will remake Susanne Bier's 2002 Danish film, "Open Hearts."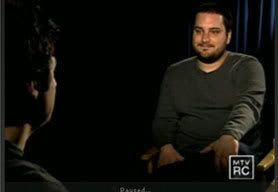 This of course is the equivalent of Mariah Carey redoing a Will Oldham record (wait, the reverse is happening) or Rick Moranis adapting an Ingmar Bergman Film.

"I thought it was very moving. An American audience would never see a danish Dogme film. The number of people who would in this country are very small. You can only get the movie if you have Netflix; it's the only place it's available. So anywhoo, I really was moved by it and thought it was powerful and i was looking to adapt something because I didn't have all the time to write something from scratch; which takes quite a bit of time." [MTV]

Original screenplays take time? What is this esoteric Netflix thing you speak of? Is this something that one has to buy on Ebay? Braff is such an obscurist.

Besides being about a family tragedy and its aftermath, Braff said the film interested him because it also managed to be about "lust, love, loneliness and so many things and dealt with them in a way an American movie typically wouldn't." Love it or leave it, traitor.

So I guess Harmony Korines should watch his back? We should all keep an eye on this independent American auteur.