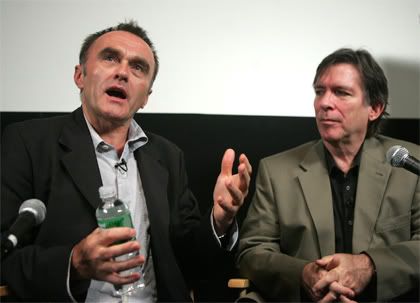 There was a screening of Danny Boyle's highly-anticipated new sci-fi film, "Sunshine," (thanks for inviting us, fuckers) on Wednesday night at Tribeca cinemas and Boyle discussed the psychological space drama with our old colleague Kurt Loder at MTVNews (I know what you're thinking, fuck you, Loder rules).

When asked why carnal love scenes didn't usually appear in sci-fi films, Boyle said they simply didn't work. "There's very few films that show relationships in space, like romance of any kind, which is an obvious thing with a young cast like this—Chris Evans, Cillian Murphy, Rose Byrne. You think it would develop romantically," Boyle told Radar. "We tried it, we wrote some stuff, and it was just embarrassing." As further proof, the director added, "In 2010, the sequel to 2001, there's a relationship ... and it doesn't really work. It's just a bit cringing."

About the "Trainspotting 2" sequel Boyle's been championing intermittently over the last few years he said that much like the novel's sequel, "Porno," the characters would be over two decades over and a little worse for wear. "They are deliberately middle-aged. The hedonists that have abused and taken their bodies to the absolute limit of tolerance are at an age where you can no longer do that—which I have personal experience with, also."

No word on whether he'd somehow convince Ewan McGregor to appear in the film. Last time we checked, the rest of the cast was eager to do it, but McGregor has already insisted, he wouldn't be interested in reprising the role.