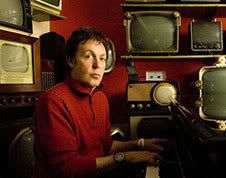 "There's quite a few [of my solo career songs that I like… There's one called... "Waterfalls," I think is nice. In fact, somebody had a hit, a few years ago, using the first line, "Don't go jumping waterfalls / Please stick to the lake…" And then they go off into another song. It's like, "Excuse me?" Aging, perhaps senile Beatle Paul McCartney insists that TLC's 1994 slo-jam, "Waterfalls,"nicked the first few lines of his mostly unheard 1980 solo track. [A/V Club]

"A good example would be a Woody Allen movie. He can be telling a story in first person, but it's sort of implied that it's not about Woody Allen in his actual life, like he actually lived the story of Manhattan or Broadway Danny Rose. So I always have to remember that I am the narrator, but it doesn't have to be about me." - Formerly self-involved drug addict/overly prolific songwriter Ryan Adams tries to apply cinema-inspired songwriting ideas to his every day life. [A/V Club]

"Literally, Pearl got offered a movie off of it. Somebody came to CAA with a project with Jackie Chan and wanted to attach Pearl to it," FunnyorDie.com founder and proud father of Pearl Mckay, (the wonder acting toddler who starred in the immensely popular "The Landlord" short), Adam McKay wisely decides to retire his daughter from appearing in any more shorts with his writing partner, Will Ferrell. [Washington Post]

"How do you even faint in a chair? Is that possible? I know someone vomited once. And perhaps people felt faint. I would understand that. And I kind of like it in a way; it's like a fair ride. It's meant to be scary, but you laugh afterwards." - Perpetual sexual titillater, bi-sexual actor Alan Cummings remains unconvinced at the reports that audiences fainted to S&M-like scenes in his new film, Suffering Man's Charity. The Post reported that some viewers were outraged at a gruesome torture scene with a whip. [Radar]

Download: Ryan Adams - "Goodnight Rose"
Download: Paul McCartney - "Too Much Rain"
Download: TLC - "Waterfalls"