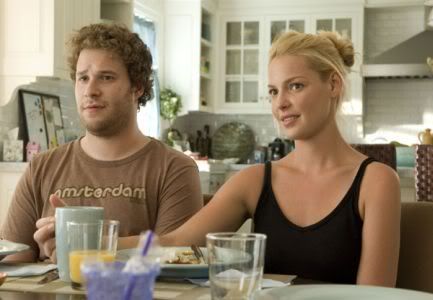 We mentioned we had seen "Knocked Up" finally on Monday night and yes, the glowing reviews are warranted (Rotten Tomatoes has given it a 92% rating, Metacritic has given it 85% positive and the NYTimes called it an "instant classic"). Obviously it has elements of raunchy, vulgar comedy, but at the end of the day it's an incredibly sweet story. Dare say I thought it was wonderful.

As previously mentioned the soundtrack is scored by Loudon Wainwright III (he has an excellent little cameo as the doctor Katherine Heigl finally approves of), but the movie itself also contains songs by Bright Eyes, Beck, Britney Spears, Lily Allen, Sublime and the very Beatles-esque Ratatat instrumental, "Tropicana."

Wiki's entire "Knocked Up" song list has the Clash's "Police on My Back," and whether that's in the film or not, I'm not debating, but I'm *95% sure I heard a song the Clash was famous for covering: *Junior Murvin's "Police & Thieves" (the Clash version was used in the Royal Tenenbaums, but was not featured on the accompanying soundtrack). *and we were right!

All The Music Used in "Knocked Up"
"All Night" by Damian Marley featuring Stephen Marley
"Smile" by Lily Allen
"Daughter" by Loudon Wainwright III
"Shimmy Shimmy Ya" by Ol' Dirty Bastard
"We Are Nowhere and It's Now" by Bright Eyes
"King without a Crown" by Matisyahu
"Rock Lobster" by The B-52's
"Santeria" by Sublime
"Swing" by Savage
"Ashamed" by Tommy Lee
"Police and Thieves" by Junior Marvin
"Grey in L.A." by Loudon Wainwright III
"Tropicana" by Ratatat
"Double Vision" by The Ponys
"Clumsy" by Fergie
"Up Loud" by Transcenders
"Shake" by Trina featuring Lil Scrappy
"Biggest Part of Me" by Ambrosia
"Sandusky" by Uncle Tupelo
"Running the Bath" by Mark Everett
"Police on My Back" by The Clash
"All Along the Watchtower" by Darryl McDaniels (as DMC)
"Sunday Evening" by Transcenders
"Keep on Dubbing" by Augustus Pablo
"Consider Her Ways" by Reggie Moore
"Bullcorn" by Coree Carter"
"Love Me" by The Little Willies
"Lullaby" by Loudon Wainwright III
"Love Plus One" by Haircut 100
"Girl" by Beck
"Danger (Been So Long)" by Mystikal
"Sign Your Name" by Terence Trent D'Arby
"Wishing Well" by Terence Trent D'Arby
"If You Let Me Stay" by Terence Trent D'Arby
"Put It On" by Bob Marley
"Manuel's Got a Train to Catch" by Mark Everett
"Toxic" by Britney Spears
"Rock You Like a Hurricane" by Scorpions
"Fruit Salad" by The Wiggles
"Hot Potato" by The Wiggles
"Here Come the Wiggles" by The Wiggles
"Helicopter" by John Powell
"Que Paso" by Joe Cain
"Lighters Up" by Lil' Kim
"Y'All Know Me" by Transcenders featuring J7 D'Star
"Reminiscing" by Little River Band
"Once You Had Gold" by Enya

Download: Loudon Wainwright III "Grey In L.A."
Download: Bright Eyes - "We Are Nowhere And It's Now"
Download: Loudon Wainwright III - "Daughter"
Download: Ratatat - "Tropicana"
Download: Junior Murvin - "Police & Thieves"