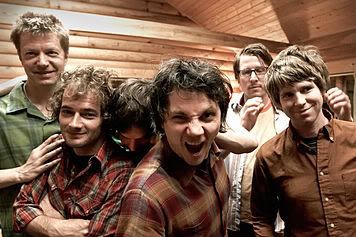 After years of being one of the most-forward thinking and progressive acts of the digitial era – streaming their albums for free, condoning the tape-trader, show recording community, releasing free mp3 EPs of their music – Wilco have partnered with Volkswagen to licence music for their latest TV campaign and fans have responded in kind by crucifying the band on various message boards for "selling out."

The heat has gotten so bad that Wilco singer's Jeff Tweedy's brother-in-law even took to the Interweb to defend him.

Then it started to get a bit tricky. Early last week there was no mention of Wilco on the VW website whatsoever. Then a press release went up on the site on Friday, June 1 and in a strange move, was quickly taken down as the controversy boiled out of control. However, thanks to Google cache, the page is here. It reads:

"VW and Wilco create music and advertising first
In a new form of music/promotion/communications, the band Wilco's recently released album Sky Blue Sky is the soundtrack to Volkswagen's latest TV campaign. This new form of marketing collaboratio
n has the creative forces of Wilco and VW combining to launch both an album and a VW campaign in the same week (May 22nd). The partnership spans multiple commercials and multiple songs, with the first song being "The Thanks I Get." The Wilco Volkswagen union will run for the summer and all songs can be streamed on vw.com. It's also the first-ever licensing deal for Wilco."

Meanwhile, Wilco themselves aren't hiding, and have finally responded to all the hubub on their website.

"As many of you are aware, Volkswagen has recently begun running a series of TV commercials featuring Wilco music.

Why? This is a subject we've discussed internally many times over the years regarding movies, TV shows and even the odd advertisement. With the commercial radio airplay route getting more difficult for many bands (including Wilco); we see this as another way to get the music out there. As with most of the above (with the debatable exception of radio) the band gets paid for this.

And we feel okay about VWs. Several of us even drive them.





If you're keeping track, this is not the first time Wilco has licensed a song to or even been involved in a commercial -- most recently a TV spot for Telefonica Mobile in Spain used a Wilco song and some years prior Jeff Tweedy appeared in a campaign for Apple Computer. Wilco have licensed hundreds of songs to television shows and films worldwide... from festival-only indie films to major motion pictures and weekly TV shows."
So yeah, they don't really see the fuss and considering just how good to fans they've been over the years, we can't say we blame then in the least. It's nice to get paid for your art.
"The Thanks I Get"

Ad


The 2nd ad using, "You Are My Face," has been taken down by
Crispin Porter + Bogusky, the people who created the TV spots.