A clip from Todd Hayne's Bob Dylan biopic "I'm Not There" has found it's way onto the interweb.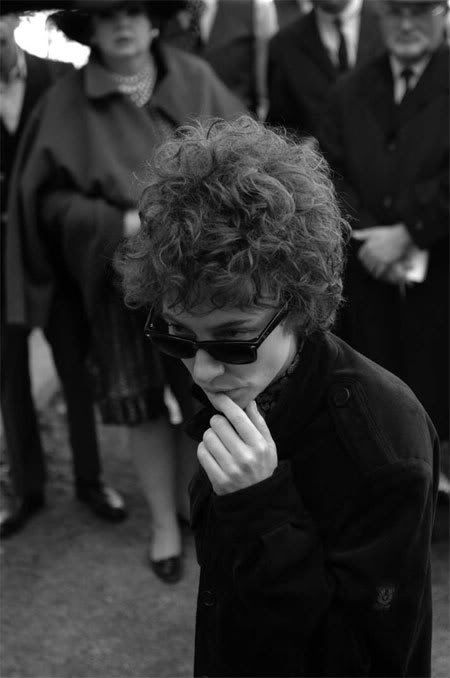 Whether it's sanctioned as a means to build buzz is unclear, but timecode appears on the clip, so it could likely mean it wasn't officially supposed to get out there yet. In it Dylan (as played by Cate Blanchett) is riding in the back of a car - reminiscent of iconic images seen in countless documentary footage including, "No Direction Home" - smoking, discussing his ill health (to Canadian actor Bruce Greenwood - (the film was shot, at least partly, in Montreal) and then comes across Allen Ginsberg (brilliantly cast and played by comedian David Cross) who drives up in a strange golf cart-like contraption. They have a brief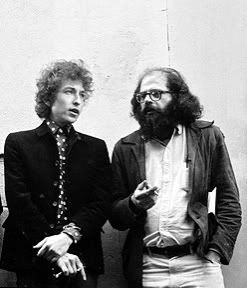 exchange and then as quickly as he came, Ginsberg drives off and Dylan is marveled and amused by the chance encounter (Blanchett captures his mannerisms down pat).

Their conversations references Dylan's infamous performance at London's Royal Albert Hall Manchester's Free Trade Hall in 1966 where folk fans turned on the singer, screaming "Judas!" for his plugged-in and electrically raucous gig that was seen as traitorous by the folky, acoustic dogma.


Ginsberg's driver: Alan, tell him what you said to that reporter. The one that asked if you thought Jude* had sold out.
Ginsberg: I said, 'I dunno, maybe he sold out to God?' "

* Jude is apparently the name of the Dylan character that Blanchett plays. All of the "Dylan's" in the film reportedly have names that aren't Bobby D.

The Music
A lot has been written about the music in the film and whether the featured Dylan songs would be cover versions or original incarnations. Here's what we know so far (there reportedly will be at least some original versions) :
- Movie music Tastemaker Randall Poster and Jim Dunbar did the music supervision for the film (Poster did music supervisions for "Velvet Goldmine" and all of Wes Anderson's films)
- Stephen Malkmus covered "Ballad of a Thin Man" and "Maggie's Farm" with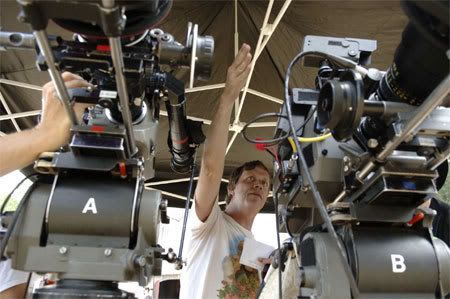 Dylan bandmember Tony Garnier in his band and Sonic Youth's Lee Ranaldo in the producer's chair.
- Hoboken indie-rockers Yo La Tengo recorded a Dylan cover for the film according to Variety.
- A recent color correction screening of the film revealed that one scene's dialogue is taken from the Dylan song, "She's Your Love Now," plus confirmed the song My Morning Jacket covered, "Going To Acapulco " (from the Basement Tapes).
- Sonic Youth were asked by Haynes to record a version of the eponymous Basement Tapes track, "I'm Not There," and it was initially unclear whether the song would be used, but the same color screening confirmed the use of the song in the film, as well as Christian Bale role as the long-rumored evangelical Dylan who leaves the music industry to become "a ordained minister and is performing 'Pressing On'" (from the album Saved).
- '60s folk legend Ritchie Havens contributed a cover.
- Calexico contributed a rendition of Street Legal's "Señor (Tales of Yankee Power)", joined by folk legend Willie Nelson and flamenco guitarist Salvador Duran. The band performed and briefly discussed their cover on Minnesota Public Radiolast September.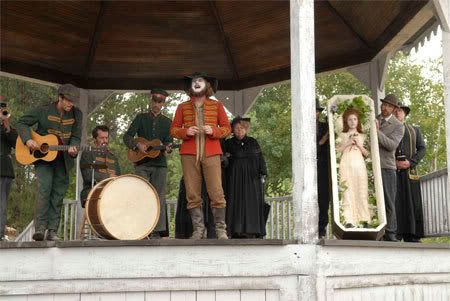 - The Hold Steady, cover the B-side "Can You Please Crawl Out Your Window?", according to a post on soundengineer John Agnello's website. Their keyboardist Franz Nicolay confirmed the band's participation in the film on his own website
- The little-known Montreal band, the Royal Mountain Band were cast as The Band in the film (They were named the Hawks at the time). According to the Montreal Gazette members of Wolf Parade and Montreal rockers Starvin' Hungry also auditioned for the part, but the RMB won over Haynes with a stellar audition of "Ballad of A Thin Man."

Rumor and Innuendo
- A posting on an IMDB message board claimed Minnesota-based singer-songwriter Mason Jennings recorded a cover of "The Times They Are A Changing" which Christian Bale apparently sings in the film (though historically this era wouldn't jive with Bale's/Dylan's 'I've found God' era).
- Micheal Stipe, PJ Harvey and Jack White were rumored to be contributing songs for the film, but White's publicist confirmed that he had no involvement in the film.

Box Office mojo says the film is scheduled for a November 21 release.

Download: Bob Dylan - "I'm Not There"
Download: Royal Mountain Band - "You Ain't Going Nowhere" (Dylan cover)
Download: Bob Dylan - Can You Please Crawl Out Your Window?
Download: Bob Dylan - Standing In The Doorway
Download: Bob Dylan - Señor (Tales of Yankee Power)"
Download: Bob Dylan and the Band - "Going to Alcapulco"
Download: Bob Dylan - "Ballad Of a Thin Man"
Watch: Bob Dylan and Allen Ginsberg visit Jack Kerouac's grave (set to "It's Not Dark Yet")