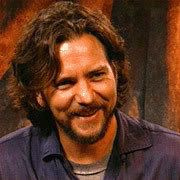 A little bee has given us a tip.

Pearl Jam singer Eddie Vedder has written an entire album's worth of original songs for Sean Penn's new directorial effort, "Into The Wild," that stars Emile Hirsch. The soundtrack CD featuring music in the film and inspired by the movie will essentially be the closest thing Vedder has ever come to releasing a solo album and is due September 18. According to the often unreliable IMDB, the film is scheduled for a September 21 release and Academy Award winner composer Gustavo Santaolalla ("Babel," Brokeback Mountain") has also contributed original instrumental score for the film. But Micheal Brook and Kaki King are credited in the trailer with composing the score.

Based on the John Krakauer novel about the mysterious Alaskan adventure of wanderer Christopher McCandless,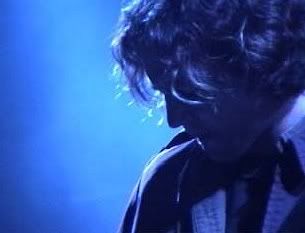 Vedder is no stranger to songs written for film, or working with Sean Penn. The throaty tenored grunge singer wrote two songs for Tim Robbins' "Dead Man Walking" directorial effort (which starred Penn) that featured the late Qawwali singer Nusrat Fateh Ali Khan (Vedder covered the Beatles' "You've Got To Hide Your Love Away" for the Sean Penn film, "I Am Sam," among lots of other small contributions to film, but this is his first real solo effort).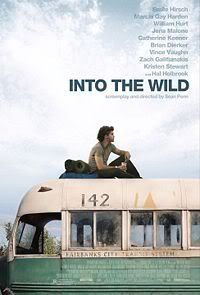 The trailer confirms the PJ's singer participation and says "original songs by Eddie Vedder" (and it also appears that Vedder has a small role in the film as he is in the cast credits as well).

Parts of the film were shot in Seattle (update: and Alaska and parts of the Pacific North West) which explains some if not all of the Vedder connection (though aforementioned 'Dead Man' does too). The trailer also features "He Lays in the Reigns," a track from the recent Iron & Wine and Calexico collaborative album.

The fim's shoot was apparently pretty physical and intense. Emile Hirsch told EW, "The first day of shooting, I was supposed to climb over this hill in the snow and walk down this big slope. I was up to my waist in snow and I was trying to climb back up the hill at the end of a take, and the prop guy throws down this rope so I can pull myself up. I can't even see anybody. I'm literally on my own with a 30-pound backpack on. And I hear Sean go, ''No way, don't help him!'' I had to climb up this snow hill and we did, like, 12 takes of that scene. My muscles were so sore."

Download: Eddie Vedder - "You've Got To Hide Your Love Away"
Download: Iron & Wine w/Calexio - "He Lays in The Reigns"
Watch: "Into The Wild" trailer