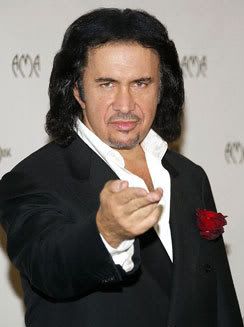 "[I] don't believe there's any difference between a monogamous and a polygamous relationship. Those are all just big words, like 'gymnasium.'" — Once you exceed three syllables Gene Simmons becomes confused, believes you are entering brain surgeon territory and logical faculties begin to break down. [TV Guide]

"I was encouraged to issue a denial, but I thought, why? I don't deny anything. I don't see the point. I've worked with lots of different people down the years." — Having knowingly worked with Korn and assclowns of all shapes and sizes, the Cure's Robert Smith sees no wrongdoing in adding one more blemish (Ashlee Simpson) to his tarnished late-era career. [Pitchfork]

"I read a lot about [Grizzly Bear] but resisted [them] based on the snide expression on a couple of their faces in a magazine. I can't get past those first impressions easily." — Wilco's Jeff Tweedy reveals, like any good myopic indie-rocker worth his salt, he will judge a book by its cover. [New York Times]

"Cartooning is for people who can't quite draw and can't quite write. You combine the two half-talents and come up with a career." — Simpsons creator Matt Groening is fabulously wealthy, yet still surprisingly in touch with self-awareness [NY Times]

"After 30 years in a band together we are very disappointed that Hooky has decided to go to the press and announce unilaterally that New Order have split up. We would have hoped that he could have approached us personally first. He does not speak for all the band, therefore we can only assume he no longer wants to be a part of New Order." — The remaining members of New Order issue a newsflash to now-former bass player Peter Hook that translates something closely to this: "Just cause you're leaving doesn't mean our band is through, you wanker." [NME]

Download: Wilco - "Either Way"
Download: Grizzly Bear - "He Hit Me (It Felt Like A Kiss)"
Download: New Order - "Leave Me Alone"
Download: The Cure - "Japanese Whispers"