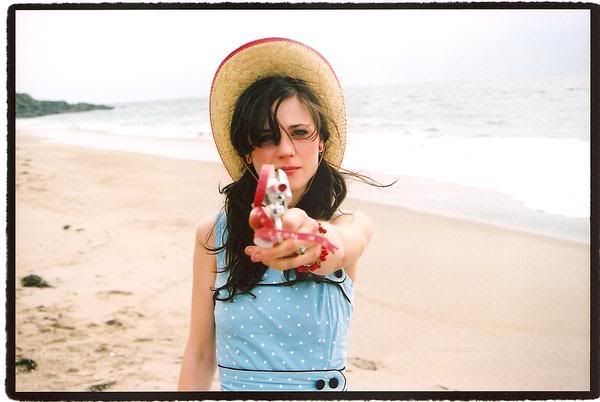 Earlier this week, the fine folks at Tape Rock saw "The Go-Getter" film by Martin Hynes that we've been eagerly anticipating. The film is scored by shy, indie folkie M.Ward and stars Zooey Deschanel, Lou Taylor Pucci and Jenna Malone (Ward has a brief cameo too).

The synopsis of this "mix tape of emotional discoveries" at Unofficial Sundance is:
Left with an aching instinctual itch to explore America after a traumatic loss, a curious teenager named Mercer (Pucci) suddenly steals a car in
Oregon and develops a life-altering telephonic connection with the forgiving and mysterious girl he took it from. As he sets out with her phone calls as guidance, Mercer's motives find focus as he travels across the postmodern highways of the former Wild West to seek self-knowledge and a sense of belonging.

According to TapeRock and what we reported last time, the film is still without distribution, but there is wishful thinking that it will come out before the end of the year (that's doubtful though). They've listed a few songs used in the film (we can assume seen and heard from their eyes and ears) which includes the M.Ward and Zooey Deschanel cover of Richard and Linda Thompson's "When I Get To The Border" which we posted last time we wrote about it (mp3s at the bottom) and an Elliott Smith and Black Keys song.


On "The G0-Getter" myspace page, the filmmakers are trying to decide on a film posters and are asking users for their opinion (and their creative attempts if they are so inclined). Our favorite is to the left.

They also have a brief interview with the director. Here's an excerpt.

It's been said that some Christians have responded to the spiritual element in the film, particularly the idea of getting second chances in life and how love affects that. So, is this the first in the Born Again Road Movie genre?
Hynes: I'm not religious, and given the fairly raw language and sexuality in the film, I don't think we'll be asked on the 700 Club. But a group of seminary students were at one of the Sundance screenings, and they were intrigued by the threads of spiritual confusion that run through[Pucci's] road trip.

Download: M. Ward - "Vincent O'Brien"
Download: The Black Keys - "10 AM Automatic"
Download: Elliott Smith - "Coast to Coast"