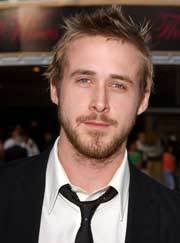 Everyone's favorite teacher/crack addict (at least in "Half Nelson"), Oscar nominated actor Ryan Gosling has formed a band called Dead Man's Bones with Zach Shields (the boyfriend of Rachel McAdams' younger sister, Kayleen McAdams; the elder McAdams was/is? Gosling's paramour).

Unlike his earlier material (see below), Bones has a whirling dervish indie-rock-ish vibe almost like Beirut or Gogol Bordello if the band had a stripped down sound without horns and the orchestral accoutrements (though their are some accordian-like flourishes).

The band has been making the album in Tel Aviv (where Gosling is staying with video director and "Remember The Titans" director Boaz Yakin's wife and a few other friends according to a Gosling fan site) and said they'll be just posting this one song until they've completed the whole album. His next movie, "Lars and the Real Girl," will apparently feature Dead Man's Bone songs in the film (which will have its premiere at the Toronto International Film Festival this fall; it apparently has a limited October 12 release date).

The group count the Everly brothers, the Talking Heads, Hideous Raging Inferno, the Magnetic Fields, the Dead Kennedy's, the Beach Boys, and Balkan Beatbox among their many eclectic influences.

A video for the song was posted on their myspace page via YouTube, but the clip has been taken down. Longtime devotees of the hottie Canadian actor have already heard Gosling's Jack Johnson-esque acoustic musical output with the song, "Put Me In The Car," which he released via the interweb under his own name months ago.

Download: Dead Man's Bones - "Dead Man's Bones"
Download: Ryan Gosling - "Put Me In The Car"