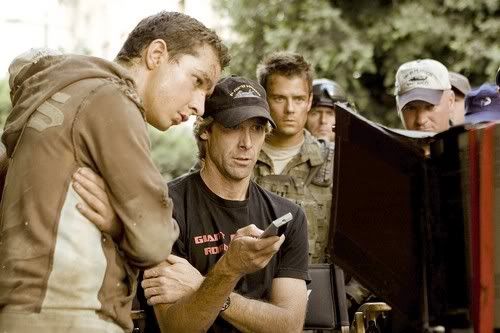 Pint-sized It-Boy, Shia LeBouf will do almost anything for a role. Apparently on the first day of "Transformers," the diminutive actor was almost killed.

We had these police guard dogs," director Michael Bay, told the L.A. Times. "I didn't know how dangerous they could be."

Apparently they were very dangerous and LeBouf had to haul ass. Thank God I'm really fast," LaBeouf said. "He's telling me, 'Don't worry. It's safe.' Action gets called. Attack dogs run, run, run, run! First take goes great. Second take goes great." The third take didn't go so well.

"[The dog] ran past the [trainer] with the arm brace and chased me around the set," LaBeouf remembered. "They had to attack the dogs. They had to tackle them. The dog was 200 pounds. They would've killed me. It would have been somebody else in the part. Yeah. Welcome to 'Transformers.' "


But will this be anything compared to working with Harrison Ford on the set of the now-shooting, "Indiana Jones 4?" LeBouf might have tons of admiration for Ford, but another young actor, Josh Hartnett, hated him.

Harnett worked with the sneering, sarcastic and grumpy old Ford on the very forgettable, "Hollywood Homicide," and didn't enjoy the experience one bit.

Harrison Ford, Old Macho Asshole?
So gung-ho was Ford to prove that he could hang with the young kids, he insisted on doing all his stunts and in one auto stunt gone awry, he caused Hartnett a concussion and himself a groin injury. Ford of course, blamed Harnett for the fuck-up (classy, elder statesman), but Harnett said the accident was due to Ford's constant macho testing, "like taking elbows in a basketball game."

"This stunt driver did something just totally dangerous and wrong.... I couldn't stop in time and Harrison was so pissed off at me. If we were going any faster, I'd be in a lot worse shape. I hit the top of the windshield with my face, and Harrison is like, 'Goddammit! I knew it!' He got up my nose so bad, I really thought it was my fault [at first]," Harnett said of Ford's wind beneath my wings approach to helping out his younger, less-experienced co-star.

"Harrison was an idol of mine, but we had kind of a tumultuous working experience," Hartnett told Jam Showbiz in 2003.. "He's only worked with one other young actor. (Brad Pitt, with whom Ford famously did not get along in "The Devil's Own").

Best of luck Shia!