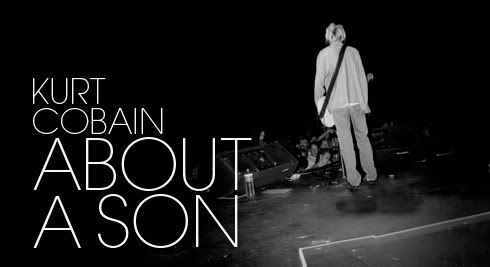 In early June we posted about the quasi documentary, "Kurt Cobain: About A Son" directed by AJ Schnack using over 25 hours of previously unheard audio tapes of Cobain interviews by Michael Azzerad, the writer of the Nirvana biography, "Come As You Are: The Story of Nirvana."

"We didn't want to call it a documentary," Azerrad told MTV News in August of last year. "We'd call it a nonfiction film, because it wasn't really going to trace a journalistic narrative."

The film's website calls it a "profound and almost dream-like account of Cobain's own successes and failure."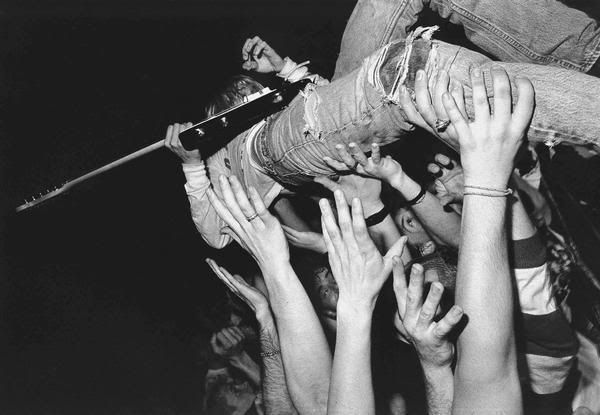 The soundtrack which features interview excerpts and tracks by early Cobain-influences like the Melvins and Mudhoney also has songs by Iggy Pop, R.E.M and David Bowie that you can presumably find anywhere and might already have. The real highlights of these Cobain-favored tracks however, are the cinematic Scratch Acid song, "Owner's Lament" and the joyously fucked-up Half Japanese song, "Put Some Sugar On It."

"The reason I liked about Scratch Acid so much was because they had real simple pop structure that you could follow really easy," Cobain said in the "Hardcore Was Dead" interview excerpt track. "It was almost like an Aerosmith song, but really fucked up and that's what I was doing, that's what I wanted to do."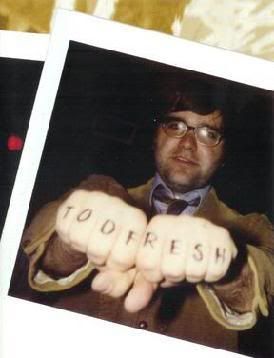 The film was scored by notable grunge producer Steve Fisk and Death Cab For Cutie sadsack manboy Ben Gibbard. Their collaboration, "Overture" is typical, but evocative and lovely ambient score material. The almost Postal Service-sounding, Beat Happening "Indian Summer" cover by Gibbard is truthfully completely incongruous with the rest of the music on the soundtrack and you guessed it, way on the wussy, my-vagina-hurts side of things. What would Kurdt think? For one we're sure he'd appreciate the obliquer Beat Happening original much more (though to be fair, it is one of Calvin's more accessible songs; but Gibbard lays the emotiveness on thick). Our solid hunch is this one is dumped in the film's credits. That's where he'd put it too we're sure.

As previously reported by Billboard, the soundtrack is due September 11 on Barsuk. The film opens in New York on October 3, Los Angeles on October 5 and Seattle on October 12. Additional information on releases in other U.S. theaters and cities is coming soon according to the movie's myspace page.

Download: Steve Fisk and Ben Gibbard - "Overture"
Download: Ben Gibbard - "Indian Summer"
Download: Beat Happening - "Indian Summer"
Download: Half Japanese - "Put Some Sugar On It"
Download: Scratch Acid - "Owner's Lament"
Watch: "Kurt Cobain: About A Son" trailer