As we noted in our Toronto Film Fest preview a few weeks ago, the upcoming venerable producer/musician/jack of many trades Daniel Lanois documentary, "Here Is What Is" (directed by Adam Vollick and Adam Samuels), documents recording sessions with artists including U2, Sinead O'Connor and Aaron Neville. A press release on Daniel Lanois website has another person listed. The mysterious Brain Eno. D'oh.

Similarily, writing about one of their most esteemed deities and in their bid to be fast and enthusiastic, Pitchforkmedia stumbled over their g-o-d, Johnny Greendwood (It's "Jonny").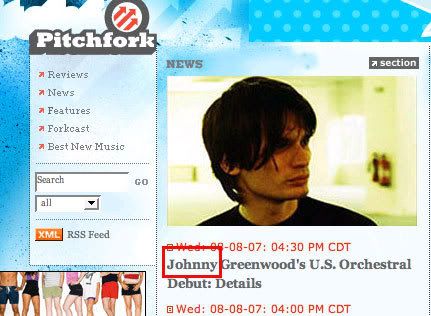 This is such an Idolator story. God, we're not making any fast friends here, are we. Ahh, it's all fun and games though, no?

We'll admit in the heat of the moment, we make lots of flubs too, but we're not much of a real paid media publication now are we.