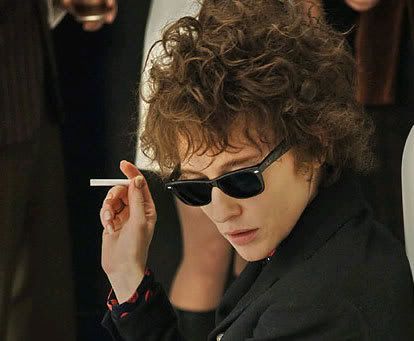 The reputable British rag, the Daily Mail has published a brief interview with Cate Blanchett on her thoughts and fears of playing Bob Dylan in the upcoming Todd Haynes biopic that we still haven't seen, "I'm Not There." (despite plenty of friends joking that we're practically paid to blog about this thing).

Recently, Harvey Weinstein practically threatened suicide if Blanchett performance doesn't earn her an Oscar nomination and while Blanchett didn't talk about the Academy Awards, she did have her own concerns.

"I have always loved his (Dylan) music, but I'm terrified about this because I am besotted," she told the Mirror. "I watched the press conference he gave in San Francisco in 1965, or whenever it was, and just think, 'I love you'.

However, the Australian actress mades a point of claiming her role is an interpretation. "The worst thing an actor can do is fall in love with someone they're about to portray, but I'm not playing him - my character is called Jude. It's a riff on who Bob Dylan could possibly be. When I saw the script I thought, 'This is so out there I can't run away from this'."

According to the Mirror:
'I'm Not There' will look at Dylan's early days as a struggling folk-singer, his rise to the forefront of the early '60s folk scene, the controversial switch to rock, the motorcycle accident and his subsequent retreat from public view. As well as his latter day de-emphasis of recording and his concentration on the concert series known as the Never Ending Tour.