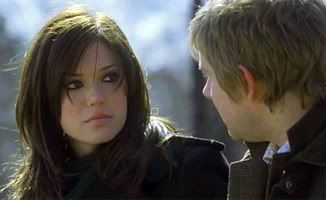 Ok, so it's not exactly the new Mandy Moore movie per se (unless say you're People or Us Weekly about it). It's more like the new Justin Theroux movie. Whooooo? The actor (you might know him from appearances in "Muholland Drive," and the pre-ejaculator in "Sex In The City"), who just completed his feature OCD rom-com debut, "Dedication," that stars priceless Mastercard thespian Billy Crudup and the aforementioned doll Moore (not to mention the very excellent Tom Wilkinson).

Will this finally be the movie Moore's desperately been chasing to create indie-film credibility? If this isn't the one, nothing's going to do it (apparently this will be the first of two Moore films produced by Killer Films - Christine Vachon's indie company that does Todd Haynes' films - "I'm Not There," Velvet Goldmine," etc. so this could be a good look for her acting career). Adding a touch of indie-rock credibility for the cheerleading enthusiasts over at Pitchfork/Stereogum and Brooklyn Vegan (the holy trinity of indie-rog bloggityness) is the score composed by outre avante-rockers Deerfhoof.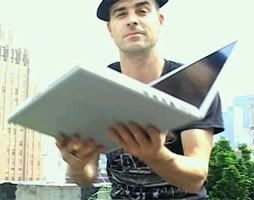 Seriously? Yes, apparently the outre-noise rockers were picked by the indie-loving Theroux to score the film. His indie predilection is also evinced by the film's trailer which features songs by lovely synth waifs Au Revoire Simone and fabulous electroclashers Fischerspooner ("Stay Golden" and "A Kick In the Teeth," respectively).


According to always wonderfully unreliable IMDB, "Dedication" uses nine Deerhoof songs, eight tracks selected from a mix of their old albums (though mostly centered around 2001's Reveille) and what appears to be one new song called, "Dirge." But according to Pitchfork and Wikipedia (also dubious) the band were composing original songs for the film, so we can speculate that there will could be more original Deerhoof music in the film.

In early December on their myspace page, Deerhoof wrote about having to drop their version of "The Little Drummer Boy." "Justin [Theroux] asked us to make a version of "Little Drummer Boy" for one scene," the band wrote. "It really worked well, but then his producers discovered that this is one of those songs like "Happy Birthday" - If you use it in a movie you have to pay five figures to some estate somewhere, so he had to can it." Their version was posted, but eventually taken down (anyone that happened to grab it, please feel free to send a downloadable link in the comments section?)

In an Exclaim article from February of this year, Deerhoof were extremely excited to be working with the knowledgeable music fan in Theroux. "It was totally amazing when we first met him — he claims to be a Deerhoof fan, we were just like, 'What?!' I couldn't believe he had even heard of us, let alone liked our music," said founding member and drummer Greg Saunier.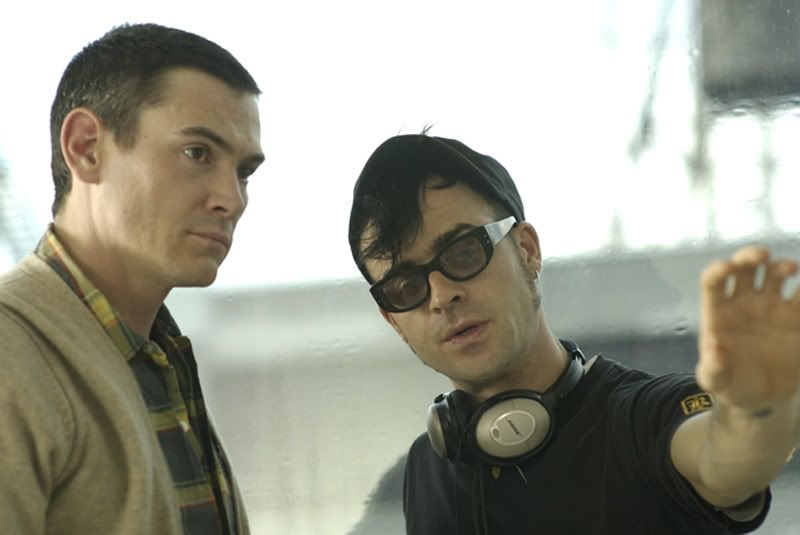 Serendipitously, Deerhoof's music, particularly the album Reveille, which Theroux largely drew from, was partly conceptualised as a film soundtrack. "We felt like Reveille was meant to be cinema," Saunier said. "We had so much trouble putting it together, and figuring it out… I just remember trying to think of it like a movie, a cinematic story, with different scenes and a flow to the plot. So it's kind of uncanny how he's making this movie and he wants to use these songs." According to Pitchfork and Emusic composer Ed Shearmur ("Factory Girl," "Charlie's Angels") worked on the score with Deerhoof, but deeper information as to the extent of their collaboration is scarce. IMDB lists him as the composer of original music and Variety has Deerhoof listed separately as "additional music," so perhaps someone has overstated the case (The poster says, "Music By Edward Shermur; Featuring The Music of Deerhoof" which suggests they did not work together).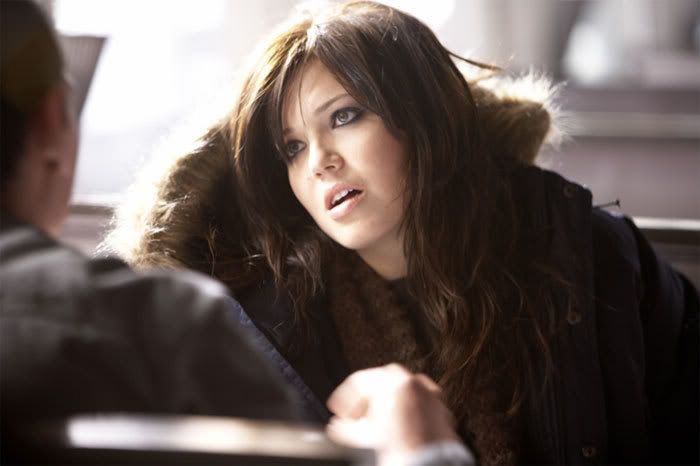 According to the Black Film's Sundance first look, the film's soundtrack also features tracks by Leadbelly, Cat Power ("Metal Heart"), Fischerspooner and The Strokes.

According to the sometimes uninformed, but strangely tip-worthy IMDB message board posters, the Cat Power song is "Metal Heart" and they also reconfirm a few of the Deerhoof tracks.

( They are apparently: "Adam+Eve Connection" from Apple Bomb, "Days and Nights in the Forest," "Sound The Alarm," "Hark The Umpire" and "Our Angel's Ululu"from Reveille, "Spiral Golden Town" from the Green Cosmos EP and "That Big Orange Sun Run Over Speed Light," "New Sneakers" from Milk Man.)

"Dedication," which actually looks predictably charming, funny and bittersweet (a typical 21st century rom-rom perhaps? And or, gulp, the next "Garden State'?) is due in New York and L.A. on August 24. No news on a soundtrack quite yet, but hopefully this story pushes that to the forefront.

Download: Deerhoof - "Spiral Golden Town"
Download: Au Revoir Simone "Stay Golden"
Download: Fischerspooner - "A Kick In The Teeth"

Watch: "Dedication" trailer