A trip down soundtrack history memory lane today leads us to Cameron Crowe's "Vanilla Sky." Based off a painfully mediocre movie, "Abre Los Ojos" by Alejandro Amenábar ("The Others") Crowe's painfully mediocre remake ('Sky'), was a mess both visually and sonically. The soundtrack was basically a mixtape of whatever Crowe happened to been listening to 6-months prior to making the film and then he shoe-horned them into scenes wherever possible, including tracks by Radiohead, Spiritualized, Sigur Rós, the Monkees and others (we're not questioning his taste, the choices are fine, their awkward and forced placement is not).

The film was ungood to say the least and Sigur Rós for one admitted that allowing their music to be used in the film before they had actually seen it was a blunder on their part.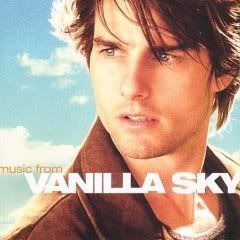 "I regret it a little bit that I didn't see it before," Sigur Rós eunuch-sounding vocalist Jonsi Birgisson admitted to Jam Showbiz in April 2002. "I think it was a mistake. I really wanted to see it before we did it, but they couldn't show us the film because they were running out of time. We saw it when it was ready. I didn't like it. It's hard if you are connected to something that doesn't work 100%. When you put everything into the things that you do and some people take your songs and put them into something that doesn't work ... Some of it was really good, how they used those songs. The last song was really well used. And of course, a lot of people will discover our music and that's really important, too. You can't forget that."

Translation: Hey Cameron, don't be totally offended, we like your movies and all, but this blew and, sometimes part of turds smell less offensive than others.

However, did the Icelandic dream-rockers learn their lesson? In countless interviews from their first North American release, Rós went on about carefully choosing music for films and not lending their music to just any old project. A quick scan of Wikipedia's list of music for TV and films that Rós contributed to seems like they've really whored themselves out (even if semi-correct, this list is huge).

The 'Vanilla' use of Sigur Rós' creatively titled "Track 4" ("Njósnavélin) was actually a live version of the song before it was released on the imaginatively titled () and ironically, it was probably the finest use of music in the film, (admittedly the use of Spiritualized in the film wasn't terrible either, but you could set that song to a driving instructor film and it would probably still kill), but it's use wasn't allowed on the soundtrack (but the other Rós track, "Svefn-g-englar" made the disc).

Sigur Rós' first notable film contribution was for the 2000 Icelandic movie,"Englar Alheimsins (Angels of the Universe)" which contained two of their tracks. They also contributed an instrumental electronic score to the 2002 Icelandic documentary Hlemmur." In November, the dreamy post-rock band will release "Heima," a concert film shot around Iceland on the band's 2006 summer tour.

Download: Sigur Ros -" Track 4"
Download: Hilmar Örn Hilmarsson - "Memory" (from "Englar Alheimsins")
Download: Hilmar Örn Hilmarsson - "Journey To The Underworld" (from "Englar Alheimsins")
Download: Sigur Rós - "Death Announcements And Funerals" (from "Englar Alheimsins")
Download: Sigur Rós - Jósef Tekur Fimmuna í Vinnuna" (from ("Hlemmur")
Download: Spiritualized - "Ladies and Gentleman We're Floating In Space"