As we first reported last week, Norwegian singer/songwriter Sondre Lerche has composed the score to the Steve Carrell film, "Dan In Real Life."

As we noted then, ginger-haired indie pianist Regina Spektor guests on the newly written track, "Hell No." While the trailer for the film does feature the Pete Townshend hit "Let My Love Open The Door," Lerche covers the song himself on the soundtrack. A total of 13 new track were recorded for the album.

According to Canada's Chart Attack magazine, the disc is due Oct 2 and also features contributions by Lillian Samdal (the Faces Down track "Modern Nature"), and the Faces Down Quartet ("Airport Taxi Reception", "The Tape"). " Also included on the disc is the A Fine Frenzy track "Fever." Elvis Costello's "Human Hands" (from 1982's Imperial Bedroom) is in the film, but not on the soundtrack.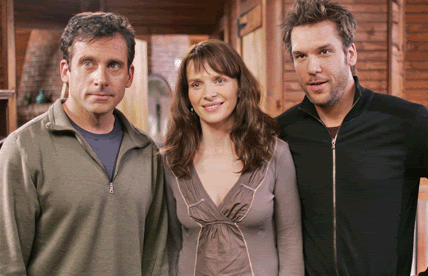 Of the jazzy "Modern Nature" track from Lerche's 2002 debut, Faces Down, he said, "I wanted to write something romantic, humorous, and sweet. At that time, I was really inspired by Cole Porter. I wanted something that would sound nice on Broadway."

As we mentioned last time, "Dan In Real Life" director Peter Hedges is fond pop music in film. His last movie, "Pieces of April," was scored to the music of Magnetic Fields' frontman Stephin Merritt's various projects. Hedges listened to over 500 artists when searching for music for the film, but got stuck on Lerche. [His] music feels timeless to me," Hedges said. "There's a depth to it and you feel that this is a man who believes in love. The music is just infused with that feeling without being sappy or sentimental – which made it a complete dream for this story."

Sounds like like someone was paying attention to these cinematic-sounding tracks. "Dan In Real Life" is due in theaters October 26.

Update: Chart Attack's tracklist is wrong, we've updated it with the correct version.

"Dan In Real Life" Soundtrack tracklist
1. Family Theme Waltz – Sondre Lerche
2. To Be Surprised – Sondre Lerche
3. I'll Be OK – Sondre Lerche
4. Dan and Marie Picking Hum – Sondre Lerche
5. My Hands Are Shaking – Sondre Lerche
6. Dan In Real Life – Sondre Lerche
7. Hell No – Sondre Lerche and Regina Spektor
8. Family Theme – Sondre Lerche
9. Fever – A Fine Frenzy
10. Airport Taxi Reception – Sondre Lerche and The Faces Down
11. Dan and Marie Melody – Sondre Lerche
12. Human Hands – Sondre Lerche and The Faces Down Quartet
13. I'll Be OK (Instrumental Reprise) – Sondre Lerche
14. Let My Love Open The Door – Sondre Lerche
15. Dan and Marie Finale Theme – Sondre Lerche
16. Modern Nature – Sondre Lerche and Lillian Samdal