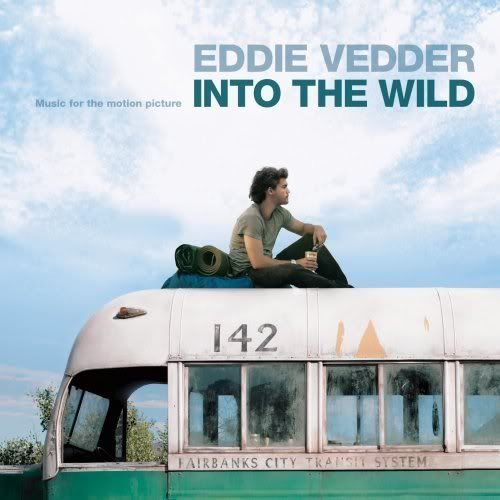 OK, now it is really Eddie Vedder week. Not sure what's up with that, but we've reported a flurry of the PJ-singer's movie-related projects; his appearance in "Walk Hard," and contribution to the "I'm Not There" soundtrack and now some of the details of the "Into The Wild" soundtrack, which he wrote original songs for, have emerged.

According to Pearl Jam online, who provided the image to the left, J records confirmed the September 18 release date we originally reported.

The 11 song tracklist apparently only covers Eddie Vedder songs and none of the score material by Micheal Brook. The first single, "Hard Sun"' a song originally written by Seattle musician Gordon Peterson (aka Indio), is a duet Vedder did with Corin Tucker of Sleater-Kinney. A link to buy the disc on Amazon is already up.

Tracklist For "Into The Wild" original soundtrack
1. Setting Forth
2. No Ceiling
3. Far Behind
4. Rise
5. Long Nights
6. Tuolumne
7. Hard Sun
8. The Wolf
9. End of the Road
10. Society
11. Guaranteed

Download: Eddie Vedder & Nusrat Fateh Ali Khan - "The Face of Love"
Download: Eddie Vedder & Nusrat Fateh Ali Khan - "The Long Road"