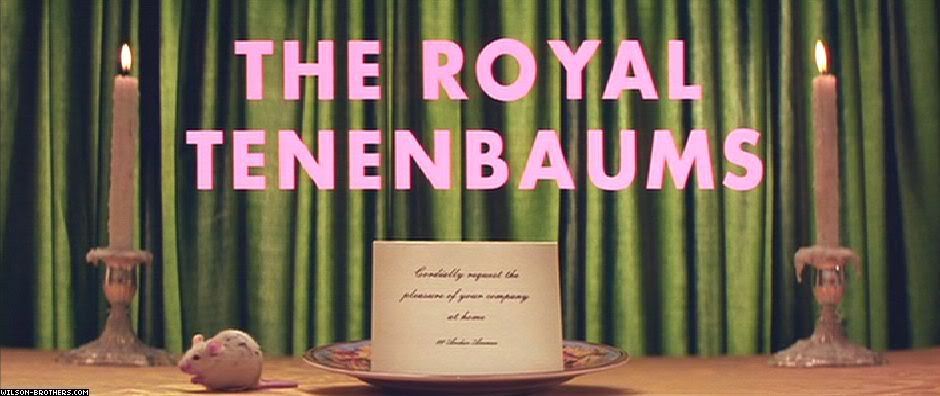 Our features on the music of Wes Anderson - and the music that doesn't appear on the soundtrack CD's - continues with 2001's "The Royal Tenenbaums" (Earlier this week we looked at "Bottle Rocket" and "Rushmore")

"I Always Wanted To Be A Tenenbaum" -Liner Notes: The music supervisor Randall Poster calls Mark Mothersbaugh's [French Impressionism-inspired] score, "charmed, magical and sort of innocent." Of Mothersbaugh's Mutato Muzika L.A. operation, Wes Anderson said, "Mutato Muzika - which I think is Esperanto - provides a very stimulating creative atmosphere. Mark works in a large, round fluorescent green building on Sunset Blvd which strongly resembles a flying saucer."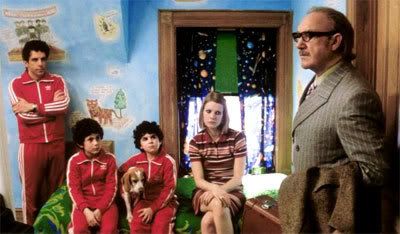 111 Archer Avenue - The Movie Music: "The movie was always meant to be a New York movie," Anderson said in the DVDs commentary track. "But somewhere along the way, like many of my films, it became a fable." Which might be the reason the classic rock in the movie skews towards NY bands like the Velvet Underground and Nico, the Ramones and Paul Simon. There's a lot of classic movie music moments that have discussed at length - Margot's (Gwyneth Paltrow) entrance to Ritchie (Luke Wilson) to Nico's "These Days" (which was planned out years before it was shot); the file on Margot's past romantic dalliances to the Ramones; Ritchie's now-prescient (and now ironic) suicide attempt to Elliott Smith and Royal's (Gene Hackman) rabble-rousing with his grandsons to Paul Simon - so there's no real point in recounting them here. "Often, as music inspires ideas in the script, the music can also suggest the tenor of the movie in a way," Anderson said of Nico's "These Days."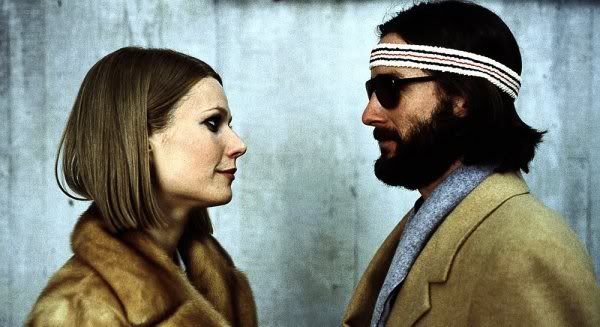 You Heard Me, Coltrane - Early Days: There's a lot of interesting things to note about the music of 'The Royal T's.' For one there was earlier versions of the film that used different music. We were personally lucky enough to be there for a very early screening of the film in L.A. in 2000 to witness it ourselves. The opening of the film originally used the real version of the Beatles' "Hey Jude" (not the Mark Mothersbaugh Mutato version seen in the film and re-released on the Collector's Edition soundtrack released in 2002) and the end was originally scored to their Rubber Soul track, "I'm Looking Through You" (instead of Van Morrison's "Everyone" which is what was eventually used).'
The Mutato Muzika Orchestra - "Hey Jude"
The Beatles "I'm Looking Through You"
The Beatles "Hey Jude"
Van Morrison - "Everyone"


Even Anderson, who convinced the Rolling Stones to loosen their soundtrack licensing grip couldn't convince Yoko Ono to loosen hers (and he put out a personal plea to her himself - the specific article we're thinking about seems to have disappeared, but many references to his Beatles plight and dream to bookend the film with two of their songs lies here). George Harrison's illness at the time before his death also apparently didn't help either. Elliott Smith was approached by Anderson at one point, presumably last minute, to fill in and record a "Hey Jude" cover, but allegedly Smith's drugs and depression got in the way of a quick turnaround. "He was in a bad state and just wasn't able to,'' Anderson told EW in 2004. Nevertheless he managed to put some Elliott in the film (the aforementioned prescient "Needle In the Hay").


Oh Yoko - The Missing Music: Yoko wasn't completely unkind though, she had let Wes use John Lennon's "Oh Yoko" in "Rushmore" (a now iconic movie music moment) and his Plastic Ono track "Look At Me," which was briefly used in the movie when Chas Tenenbaum (Ben Stiller) was putting his children Uzi and Ari to bed on their first night staying at the 111 Archer Avenue home of his mother. Anderson seems to favor lesser-known versions of songs we all know - both "I'm Looking Through You" and "Look At Me," are not the album versions, instead the former comes from the Beatles Anthology 2 album and the latter is a demo version from the John Lennon Anthology collection.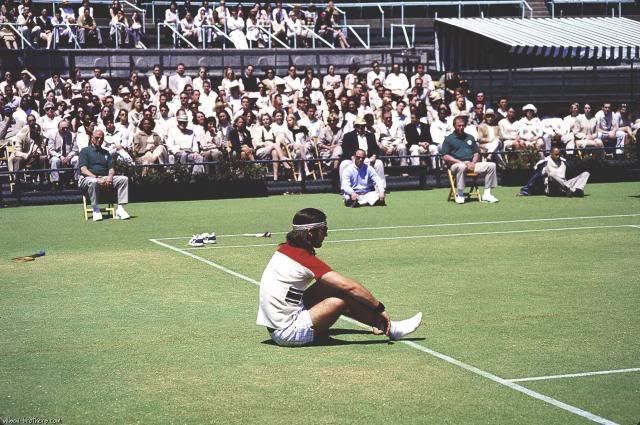 "That's 72 Unforced Errors For Richie Tenebaum" - More Music Trivia: Another version of the film's finale used the Beach Boys' "Sloop John B." The previously mentioned "Everyone," the two Rolling Stones tracks, "She Smiled Sweetly," "Ruby Tuesday," the Mark Mothersbaugh "Hey Jude" instrumental cover and Bob Dylan's "Billy - Main Title Theme" from his "Pat Garrett & Billy The Kid" score were also not licensed for the original soundtrack CD.
Beach Boys - "Sloop John B"
Rolling Stones - "She Smiled Sweetly"
Rolling Stones - "Ruby Tuesday"

Get Him To Stick Them In A Fucking Cage - Extra Trivia Credit: Chas's Dalmatian mice in the film were made with a black sharpie. "I don't know if we should say; I'm not sure that's legal," Anderson said in the commentary track.

I Know You Asshole! -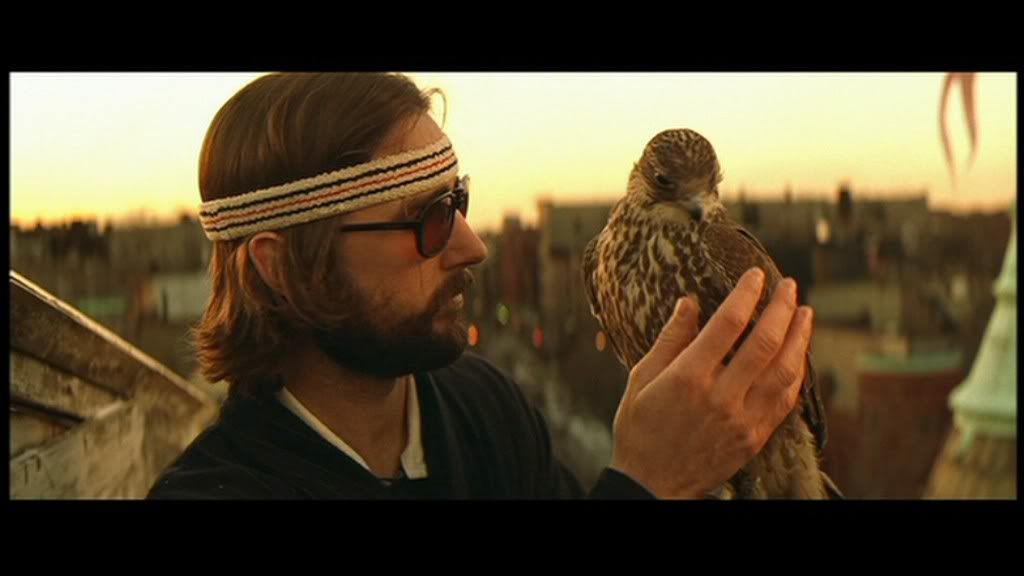 More Extra Credit: Jason Schwartzman was intended to be in the film. In the original script there was a quiet, child prodigy that sipped on chocolate milk and wore a white suit named Mordecai that was supposed to live next door to the Tenebaums (not unlike Eli Cash). Anderson eventually realized he had too many characters in the plot and had to drop one. He gave a nod to the character by naming Luke Wilson's hawk, "Mordecai." "He got cut... [Schwartzman] was going to play Mordecai. He was the son of a diplomat and had escaped from his school, "Anderson revealed during the "Darjeeling Limited" press tour.


He Has The Cancer - The Music And Where It's Used (Commentary):
- Dylan's "Billy - Main Theme" is played when Royal is disgraced in front of his whole family by Henry Sherman (Danny Glover) who reveals that the patriarch's stomach cancer is a total fabrication. The song was originally supposed to be used at the end of "Bottle Rocket." "We couldn't get the studios to spring for it, but we finally got it in this one," Anderson said in the commentary.
- "Christmas Time Is Here" by Vince Guaraldi. "I always try and use a little bit of Charlie Brown music," Anderson said
- The ubiquitous drum solos for comedy: "We often have drum solos in these movies, [in "Bottle Rocket"] it was an Art Blakey solo that we had to reproduce with Mark Mothersbaugh" (So far there's been a drum solo in every movie outside of 'Life Aquatic').

- The Clash's "Rock the Casbah" plays during Eli Cash's (Owen Wilson) drug intervention and "Police & Thieves" plays during an ealier drug pickup: "The Clash seems to play often when Eli appears," Anderson noted.
- Erik Satie plays when Ritchie first comes to visit Eli and he's high on a mescaline binge.
- Jason Schwartzman introduced Wes to Emmit Rhodes. He felt he sounded like Paul McCartney (which he does) and thought it might fit the film (Wes used Rhodes' "Lullaby" from the self-titled 1970 album).
- Nick Drake's "Fly" wasn't originally intended for use in the film, but when Wes heard it while reviewing dailies (they would play music on set to inspire them) he incorporated it in the same post-suicide attempt scene he was watching.

A promo CD for Oscar consideration that contained all 18 tracks of Mothersbaugh's original score was released in 2001, but isn't widely available even on file-sharing networks (though it's not completely unattainable either - we scored a copy.)

John Lennon - "Look At Me"
Bob Dylan - "Main Title Theme (Billy)"
Erik Satie - "Gymnopedia #1"
Watch: Original Trailer