Do you think when Jessica Alba signed on for "Good Luck Chuck" she begged her agent to renege the contract when she learned she'd be starring next to jock "comedian" Dane Cook?

For instance: Cook's observational humor uses slang vocabulary to match his talkative manner. For example: A bad relationship is a "Relationshit", Walgreens is "The Wall," and a sandwich is a "sangwich." [ed. hilarious]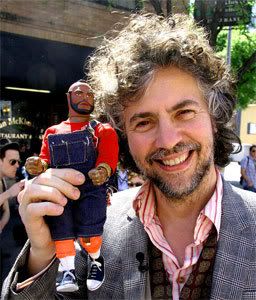 Nevertheless the "Good Luck Chuck" soundtrack, features some semi-decent nu-indie rockish tracks that will probably thrill the Stereogum crowd. Though let's face it, we've called them out before: The Flaming Lips will pretty much crank out a new song for you in 10 minutes if you offer them $50 bucks. As director Mark Helfrig tells it, "It was a personal thrill to work with some of my favorite bands like The Dandy Warhols and The Flaming Lips on an idea I had and have them come up with a song for it. Thrill is an understatement – I couldn't believe my good luck!"

Dude, like we said, it's not hard (see every lame comedy soundtrack of the last five years). For his part, Wayne "I'll Do That For A Dollar" Coyne said, "It is sometimes very easy to work with directors. But you know, honestly, they have more to lose than we do," Coyne said of the film and music collaboration (umm, really?) "And when we are asked to help we try to be as accommodating as possible." Yeah, no shit.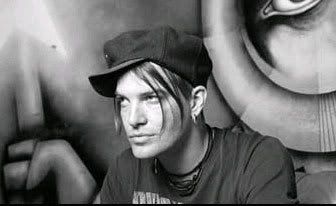 For the new Dandy Warhols track in the film, Helfrig said he originally cut the scene to the Dandy's "Bohemian Like You" from Thirteen Tales from Urban Bohemia (a fiercely underrated album that has been absolutely plundered and raped for bad scenes in lame films since its released in 2000) : "Courtney Taylor-Taylor came by the editing room, I showed him about half the movie and he was inspired. He came up with the idea for a fast paced, fun song consisting primarily of girl's names. It had a retro-y Beach Boys vibe to it, with a twist only the Dandy Warhols could put on it. I loved it instantly."

Taylor-Taylor, no stranger to schilling for a buck said, "It was pretty fun making the song for the movie 'Good Luck Chuck.' We sat around with guitars and watched this goofy montage of Dane Cook pretending to "do it" with a lot of different ladies. Now that's funny."

We bet it was. We're sure both of these tracks suck honestly, but Olivia Newton-John and Bauhaus are good choices (albeit, extremely obvious ones).

The Honorary Title and Aidan Hawken both contributed original songs to the film and The Feeling - the band that sounds like a perennial-tampon commercial - changed the lyrics of their song "I Love It When You Call," so it would fit the tenor of what was happening onscreen. Whatever...

"Good Luck Chuck" tracklist
1. The Flaming Lips - "I Was Zapped By The Lucky Super Rainbow"
2. The Honorary Title - "Accident Prone"
3. The Dandy Warhols - "Good Luck Chuck"
4. The Feeling - "I Love It When You Call (Cherrytree House Version)"
5. Art Brut - "Good Weekend"
6. Shout Out Louds - "Hurry Up Let's Go"
7. Aidan Hawken - "Shut Me Out"
8. Sharon Jones & The Dap Kings - "You're Gonna Get It"
9. Pepper - "The Whistle Song"
10. The Cars - "You Might Think"
11. Olivia Newton-John - "Physical"
12. Bauhaus "Bela Lugosi's Dead"
13. Antique Gold - "Crazy In Love"

Download: The Flaming Lips - "I Was Zapped By The Lucky Super Rainbow"
Download: Olivia Newton-John - "Physical"
Trailer: "Good Luck Chuck"