Yes, it's been widely reported that Mexican hottie actor Gael Garcia Bernal has recorded a duet with freak-folk fruitcake Devendra Banhart for the latter's upcoming album, Smokey Rolls Down Thunder Canyon (due today, 9/25 on XL).

What hasn't been widely reported, is that said duet (the song, "Cristobal") is going to be featured in Bernal's directorial debut, "Déficit," which screened at the recent Toronto International Film Festival (Cristobal is the name of Garcia Bernal's character in the film).

According to TIFF: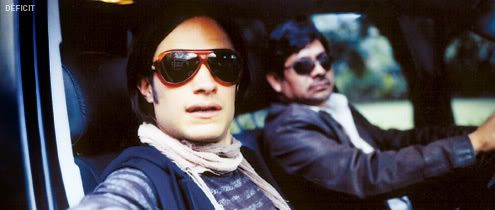 The film is "about a 20-something rich kid named Cristobal and a party he throws over a weekend. The clash between his and his younger sister's friends is comic and intense; class differences also reveal a unique social commentary on the state of Mexico. "

According to the Fader, the Banhart song "Cristobal" began as a "chattering, clattering spoken-word sign off in Spanish that was essentially an imaginary conversation with the actor Gael Garcia Bernal (whom Banhart had never met)."

"I just started talking in what i call the chichero voice," Banhart told the hipster mag. "Chica is this sweet drink with cinnamon, and the chicheros drive by the town and they're just going, 'Chica! Chica!', in this voice and in my head i was like, 'I'm just going to talk to Gael."

Banhart would later meet and record the song with Garcia Bernal for the final scene in "Déficit." "He was over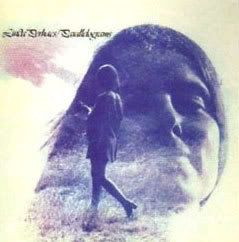 one day, because I wrote a song for one of his films. He just started singing along, and it really fit," Banhart told Billboard. The track also features lush flute sounds and Banhart playing the Cuatro, a guitar-like string instrument that has its roots in Venezuela.

[Incidentally, the very excellent and obscure freak-folk singer Linda Perhacs, came out of a 37-year retirement to sing some guest vocals on the Smokey Rolls track "Freely."]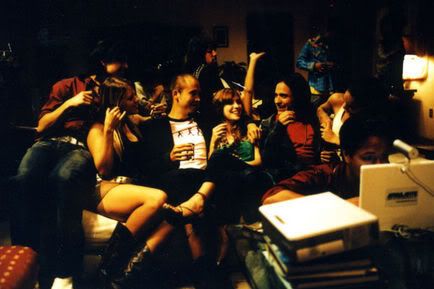 Garcia can be seen in the Banhart video for "Seahorse," off the upcoming Smokey Rolls Down Thunder Canyon (which features lots of male hugging and affection). "Déficit" just recently got picked up for North American distribution, so we should see in theaters some time in 2008.

The film recently screened at New York's Lincoln Center, but we missed it. If anyone's listening, we'd sure like to know what's on the rest of the soundtrack as Garcia Bernal's character is supposed to be, "hip-hop obsessed." Garcia Bernal told Time magazine that the film revolves around a family and is "a story about loss of privileges and the end of impunity."

Download: Devendra Banhart - "Seahorse"
Download: Linda Perhacs - "Parallelogram"
Watch: "Seahorse"