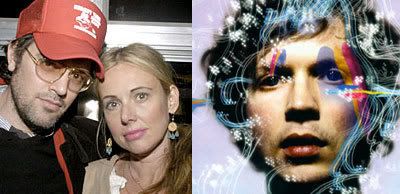 A strange story that doesn't have a lot to do with film per se. Remember Jeremy Blake the artist whose wife romantic partner Theresa Duncan (also an artist) committed suicide and then he disappeared and turned up drowned from an apparent suicide? (Blake's notable artwork included having made the pixelated visuals for both Beck's Sea Change cover, the album's "Round the Bend" video and created hallucinogenic dream sequence visuals for Paul Thomas Anderson's "Punch-Drunk Love").

Their tragic and extremely sad story has morbidly fascinated many and been reported all over the place, but a brand new Newsweek piece had this interesting tidbit of information.

In a disjointed 2006 e-mail to an art-world friend, Duncan claimed that

Beck

, a second-generation Scientologist, had told her about his

plans to leave the church

. This knowledge, she wrote, would make her "priority No. 1 for their paranoid and dangerous security wing." (A spokesperson for Beck denied to NEWSWEEK that the exchange ever occurred, and a spokeswoman for the Church of Scientology called Duncan's allegations "absurd.")
Nothing if at least interesting. There's been a lot of Scientology conspiracy theories in this story and we can't even begin to get into it, but it's a weird one that you should read and follow if you haven't already. Her blog (which is still apparently up) has some strange stuff on it.



Video: Beck - "Round The Bend"

(

directed by Jeremy Blake)




Yeah, we realize this is a little bit crass, we just wanted to report on this story cause we found it sad and strange; just like everyone else.