A new 1:00 minute clip from Todd Haynes' Bob Dylan biopic, "I'm Not There" is up on Yahoo. It's called "The Storyteller" (or click on the image) and feature Dylan/Jude (Cate Blanchett) arguing with the same British journalist (Bruce Greenwood) that was seen in the earlier Cate Blanchett clip with Allen Ginsberg (David Cross) that appeared online back in July (in fact it just looks like a continuation of that scene and aslo features Joe Cobden as the Bob Neuwirth/John Lennon composite).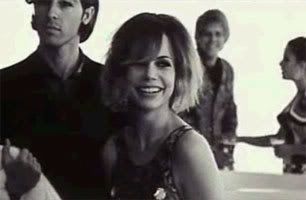 Near the end of the clip, the opening piano strains of "Ballad of a Thin Man" can be heard, but whether this is the Stephen Malkmus cover we don't yet know cause the vocals on the clip never kick in. Not sure who the female in the car is, but it's definitely not Michelle Williams (see the comparison from the Italian trailer).

In the scene Dylan is angered by the questions posed to him by the journalist who asks whether he really cares what he is singing about? "How can I answer that if you have the nerve to ask?" Blanchett/Dylan asks indignantly - a famous line ripped straight from the documentary "Dont Look Back." It's going to be fun for Dylanites to watch this thing and spot the plethora of references.

Download: Bob Dylan - "Ballad Of a Thin Man"
The original clip where Dylan goes off on a Time magazine journalist (compare and contrast for some of the exact lines of dialogue).