A new piece in Nylon magazine has a piece on actress Jena Malone's burgeoning indie career in their latest issue called, "The Ballad of Jena Malone" (not yet online). We have to admit we were more skeptical than usual when we heard that Malone was recording an album for Social Registry, but damn, if her material is pretty interesting, eclectic and not what we expected.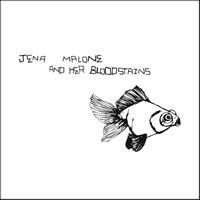 The track "Tested Dry" which is available on her myspace page sounds almost spontaneous and broken, not unlike early and sparse Devendra Banhart and then another track, "New Year Come" sounds like a Micheal Andrews track straight out of Miranda July's "Me And You And Everyone We Know" film.

There's a wondrously naive, almost idiot savante-like nature to her music - maybe cause she's self-taught and making music has become a complete obsession for her. "I went to Tahoe [her hometown] and kind of hid myself away," she told the fashion mag. "I got Pro-Tools and a keyboard and I taught myself basic guitar."

Malone's said she wanted to originally call her Jena Malone and Her Bloodstains band, Of Wild Animals And The Loss Of Her Sister, but "it was too long and confusing, so I decided on something kitschy, something a little bit more weird and personal."


Malone, who has a small, but pivotal role in Sean Penn's "Into The Wild," campaigned for the role buy doing a voice-over piece and sending him a DVD. Penn, who normally meets people before he hires them, called her four days later and offered her the part. "I would wash the floor for him," she gushed to Nylon. "I respect every part of what he's done with his career."

So far Jena Malone and Her Bloodstains have only released a '7 inch on Social Registry, but a full-album, titled Bloodstains for Sailors, is being planned. Their myspace page contains four tracks, and her youtube page, features four "songs" (some of the video clips are more like short art films - "Red Bennet" features Malone narrating one of her poems overtop of crimson-tinged visuals and the Arvo Pärt piano impressionist piece, "Spiegel Im Spiegel"; yes, it's kind of pretentious as it sounds). They also have a webpage, but there's not a lot on it at the moment.

If we can get cynical for one minute, we think it's kinda amusing that Malone has started an "indie-music" career when three years ago when we interviewed her for the movie "The United States of Leland" and "Saved," she didn't even know who the Pixies were (the Ryan Gosling-starring 'Leland' featured three Pixies tracks prominently in the film including "Gigantic" plus an unreleased score of music by ex-Sunny Day Real Estate singer Jeremy Enigk), but you know everyone's got to start somewhere.

Download: Jena Malone - "Tested Dry"
Download: Jena Malone - "New Year Come"
Watch: Jena Malone - "Mr. Jack Pail"