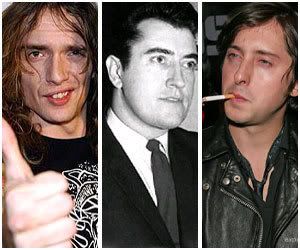 Are ex-Darkness singer Justin Hawkins and ex-Libertine / current Dirty Pretty Things found Carl Barat going to appear in the music biopic of legendary British freakbeat producer Joe Meek? [ed. a Playlist favorite]

Sure looks that way. According to British site Digital Spy, the film is called "Telstar" (named after Meek's most famously produced hits by the Tornadoes) and the aforementioned rockers will play the roles of Alice Cooper-like rocker Screaming Lord Sutch and American rock pioneer Gene Vincent in the movie about the life of the famously tone-deaf, closeted and thoroughly kooky music producer.

Nick Moran, star of "Lock Stock and Two Smoking Barrels," and apparently a Meek-obsessive is set to direct based on a script he wrote, based on a a play he already directed about the very same subject in 2005. Kevin Spacey apparently has a role as well.

Addtionally, a separate documentary called, "A Life In The Death of Joe Meek" is scheduled for release sometime in 2008.

"Joe Meek has two legends. One is his own life, which was a bit fragmented and quite sad and would make a very good movie story and the other really is he was a totally innovative producer."-Simon Napier-Bell, manager of The Yardbirds, Marc Bolan and author of "You Don't Have to Say You Love Me."

Tracks produced by Joe Meek:
Download: Jimmy Miller & The Barbecues - "Sizzling Hot"
Download: Mike Preston - "A House, A Car And A Wedding Ring"
Download: Lonnie Donegan & His Skiffle Group - "Don't You Rock Me Daddy-O"
Watch/Listen: The Tornadoes - "Telstar"
Download: Joe Meek - "Telstar" (1st Stage Demo)

Trailer for "A Life In The Death of Joe Meek"