Atlanta trap muzik rapper T.I. has landed a role in the new Danny Glover movie, "Once Was Lost," about the relationship between a senile jazz musician (Glover) and a money-hungry drug dealer (T.I., duh!) who end up taking a cross country drive from Mississippi to Harlem and becoming bff's that learn and grow from one another! As we've noted before, T.I. tends to have trouble with English. Try and make sense of this next sentence if you can. Something about an upcoming comedy. "Acting is well, acting is well. In preparation to do another movie with Danny Glover starting October which I will be producing as well, and another film, another comedy that we're working on," he rambled. [Artisan]

"Wild Style," the film about the nascent, hip-hop, breakdancing, bboy scene in late 1970s New York turns 25 this year. The "Wild Style 25th Anniversary Edition" DVD will be released by Rhino on September 25. [Rhino]


Brassy cabaret singer Nellie Mckay got the boot from a movie with Hilary Swank and Kathy Bates ("P.S. I Love You"), but scored a song in the film, sort of against her will, of course. "I recorded a song as a present for the cast, and the director wanted to use it. My mom said, 'he's using it cause he's cutting all your scenes.' Big joke, ha ha. Then we went to the screening and he cut out all my scenes," a feisty and slightly argumentative McKay told Time Out New York.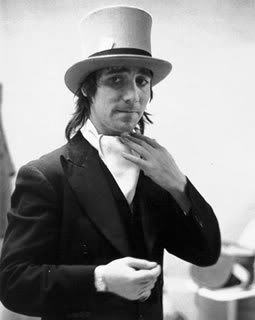 The Toronto International Film Fest had a feast of rock-related movies in early September. Not only did the festival have the Ian-Curtis related films "Control" and the doc "Joy Division," "Lou Reed's Berlin" (directed by Julian Schnabel) and the Dylan film, "I'm Not There" (just to name a few), everyone seemed to neglect the fact that there was also a documentary about The Who on hand. "Amazing Journey: The Story of the Who," was a "near-definitive tribute to the group's abandon, loaded with euphoric footage of guitar destruction and Keith Moon's exploding drum kit." The doc comes to DVD on November 7 and features testimonials from The Edge, Who-fanatic Eddie Vedder and Noel Gallagher. [TONY]

The DIY anti-music industry film, "All Ages Night" - which recently finished shooting - captures the tale of tech-saavy " 'Tell-All Culture' kids who live online as well as their rejection of the record industry's outdated star-making machinery." [L.A. Times]

Be prepared for an onslaught of James Blunt music in films and TV. "We will license these records, in movies, TV and commercials," Warner chairman Lyor Cohen said. "Trust me, you will hear these records." Heaven have mercy on us all. [New York Times]

The new Otis Redding documentary "Dreams To Remember: The Legacy Of Otis Redding" will have its world premiere in Hollywood on October 8. [AntiMusic]


The 2007 Woodstock Film Festival, set from set to run from Oct. 10-14, will feature Moby on the panel "Music in Film," (where the Mobester will expound on whoring yourself out in movies), Todd Haynes' oft-discussed Bob Dylan film "I'm Not There" (which will close out the fest), "Joe Strummer: The Future Is Unwritten," and "Chasin' Gus' Ghost" a documentary on the history of Jug Band Music which includes interviews and live performances with John Sebastian (The Lovin' Spoonful) and Bob Weir (The Grateful Dead) and was partly filmed in Woodstock. [Poughkeepsie Journal]