OK, someone gave Jason Reitman ("Thank You For Smoking," son of comedy director Ivan Reitman) just a little bit of extra dough for soundtrack clearances for his upcoming new dark comedy, "Juno," which recently debuted to strong reviews at the Toronto International Film Festival (the film won the People's Choice runner-up prize at TIFF - Eastern Promises took the top honors)

And so, attention Wes Anderson, Zach Braff, Sofia Coppola and filmmakers with tastefully chosen "hipster" soundtracks (in Braff's case, emo-ly chosen nu-ish indie rock soundtracks to accompany your cranberry juice order), Jason Reitman might be gunning for you.


The "Juno" movie features Ex-Moldy Peaches singer Kimya Dawson who contributes a bunch of pre-existing songs to the comedy about a teenage girl ('X-Men 3''s Ellen Paige) who gets pregnant (by Michael Cera) and finds her unborn child a "perfect" set of parents: an affluent suburban couple, (Jason Bateman and Jennifer Garner), longing to adopt (hello, small-"Arrested Development" reunion).

The movie also features existing songs by the Kinks, the Velvet Underground (a self-titled 3rd album B-side), Buddy Holly, Cat Power, Hole, Belle & Sebastian, Sonic Youth (an excellent B-side Carpenters cover) and Ellen Page and Michael Cera singing together in the film; singing the Moldy Peaches song, "Anyone Else But You."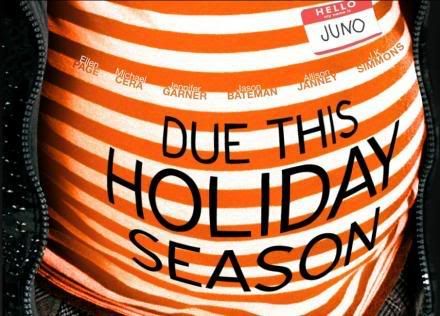 Director Jason Reitman explained in the film's press notes that actress Ellen Paige actually informed some of the musical choices.

"At one point, I asked Ellen Page before we started shooting, 'what do you think Juno listens to?' And she said 'The Moldy Peaches'. She went on my computer, played the songs, and I fell in love with it. [Screenwriter] Diablo [Cody] and I discussed putting a Moldy Peaches song in it where the characters would sing to each other. I got in touch with Kimya Dawson of The Moldy Peaches and she started sending me her work, which was beautiful, and that became a lot of the soundtrack."
In the same press notes, Screenwriter Diablo Cody said, "I love the music. I think that Ellen Page as a person informed a lot about the movie. She's just an interesting personality and such an amazing person, that you couldn't help but put her stamp on things." Kimya Dawson wrote rather self-deprecatingly on her livejournal about the songs used in the film, noting she didn't really write anything original for the film.

"

Some of those songs were recorded in my bed in

Bedford

Hills, under the covers, on the 4-track. And when people were coming up to me telling me I did a great job it felt weird because I

didn

't do a job. I wrote a bunch of crap when my heart was hurting. Everyone else had to do a job. The songs were already there. Just floating around in space. I

didn

't do anything specifically FOR the movie. Except record some instrumental versions of a couple songs that only have two chords. That was easy. so, yeah...

"
Kimya

also contributed tracks with her kid-folk band

Antsy Pants

, that features 12-year old Leo from the kid one-man-band Bear Creek.

As we've noted before, our

Raison

d'être

might

seem

like we live for pop music in movies, but

au

contraire

. We've said it before: pop music in films can easily act as a cheap emotional shortcut to dial up feelings that the actual scene and film aren't

executing

themselves and in the worst scenarios they seem forced, lazy and gratuitous (see a lot of comedies). With that said,

Filmwad

has a pretty good rant and plea to "Stop Ruining Comedies With "Cool" Soundtracks," and we

definitely

think this is a salient concern to raise or at least think about.

Juno is due December 14

th

and there's no word on a soundtrack release yet. The trailer (below) features the Moldy Peaches'
"Anyone Else But You" and Mott the

Hooples

' "All The Young Dudes."



"Juno" Soundtrack

(not

necessarily

what will eventually be on the

soundtrack CD

)
The Moldy Peaches - "Anyone Else But You"
Ellen Page and Michael

Cera

- "Anyone Else But You"


Kimya

Dawson - "Tire Swing"
(from

Remember That I Love You

)
Kimya

Dawson - "My

Rollercoaster

"
(from

Remember That I Love You

)
Kimya

Dawson - "So Nice So Smart" (from

Knock-Knock Who?

)


Kimya

Dawson - "I Like Giants" (from

Remember That I Love You

)


Kimya

Dawson - "Reminders of Then" (from I'm Sorry Sometimes That I'm Mean)


Kimya

Dawson - "12/26"
(from

Remember That I Love You

)
Kimya

Dawson - "Loose Lips"


Kimya

Dawson and Antsy Pants - "Tree Hugger"


Kimya

Dawson and Antsy Pants - "Sleep"


Astrud

Gilberto - "Once I Loved"
Barry Louis

Polisar

- "All I Want Is You"
Trio Los

Panchos

- "

Besame

Mucho

"
The Kinks - "A Well Respected Man"
Courtney Love - "Doll Parts" [ed. pretty sure they mean Hole here]
The Velvet Underground - "I'm Sticking With You"
Buddy Holly - "Dearest"
The drop - "Why Bother"
Sonic Youth - "Superstar"
Belle & Sebastian - "Piazza, New York Catcher"
Belle & Sebastian - "Expectations"
Mott The

Hoople

- "All the Young Dudes"
Cat Power - "Sea of Love"
Antsy Pants - "Vampire"



Download:
The Moldy Peaches - "Anyone Else But You"
Download:
Sonic Youth - "Superstar"
Download:
Kimya

Dawson - "12/26"
Download:
Kimya

Dawson - "I Like Giants"
Watch:
Kimya

Dawson's kid Mahala singing the Antsy Pants song "Henry Kelly"
Official Juno Trailer