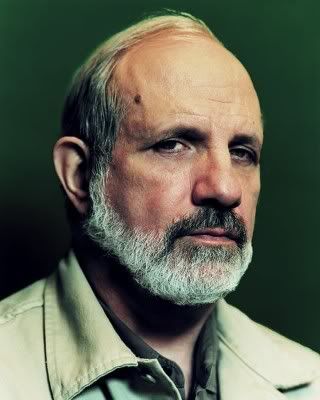 Brian DePalma is perhaps contemporary cinema's most polarizing director. You either love him or you loathe him and a small, but loyal cult of DePalma-ites insist everything laughable you may see in his films are actually intentionally funny and part of DePalma's higher level of satire that you're not seeing (whatever, but seriously, a whole article should be devoted to these crackpots).



With his latest - an Iraq war harangue built to provoke called "Redacted" - DePalma will soon find the right wing media far, far up his ass and likely calling for his blood. Patriots are already on YouTube calling the film grounds for treason.

But DePalma outwardly said he has made the film to stop the war effort in Iraq and even his producer Jason Kliot says it's probably going to make your blood boil. "Everything you hate about De Palma is being used to great effect for a humanist purpose," Kliot said at the New York Film Festival press conference, "which is to try to do what he can to stop the war."


DePalma said the film was born out of his frustration from only seeing one side of the story. "We have all these infomercials created by the Bush administration," De Palma said of mainstream media's war coverage. "But if you go on the Web and read soldiers' blogs or look at the pictures, you go, 'Whoa!' You see a whole different story."

A docudrama based on the real-life Mahmudiyah killings, the real-life rape, murder, and burning of Abeer Qasim Hamza al-Janabi, a 14-year-old Iraqi girl in March 2006 by U.S. soldiers, who also killed her parents and younger sister, the film is already polarizing many, creating champions for the film and finding vocal detractors. At the Venice International Film Festival, De Palma won the Best Director prize; at Telluride, audiences reportedly walked out during the rape scene.

"The movie is an attempt to bring the reality of what is happening in Iraq to the American people," he told reporters in Venice.


According to the Village Voice, the digital film is a "mishmash of fictionalized fragments, including a soldier's video footage, YouTube clips, and a French documentary."

If the film seems to be grossly explicit with hammering you over the head imagery and metaphors, DePalma concedes the film in meant to be an cinematic barrage on your senses (the film is apparently stunningly violent and contains upsetting brutality). "The audience should be upset," he said at the NYFilm Fest. "I'm upset. I'm upset that the Fourth Estate has collaborated with the administration and sold a bill of goods to the American people about why we're there and what we're doing."

Fox News' Bill O'Reily Attacks "Redacted" and Threatens DePalma