One of our favorite things about writers and or press-releases is their selective or just plain failed memory.

Case in point: Folks are reporting that the "Downtown 81" soundtrack is going to be released on November 6 which it is, but folks seem to forget or are oblivious to the fact, that it's being re-released (it came out at least once already in 2001).


Don't get us wrong, it's a great soundtrack and an important moment in New York culture, but people let's stop pretending this is new (and or when you read a press release, maybe do a second of homework before you regurgitate it; most of the time it's your job).

Back to our regularly scheduled program: '81' starred late downtown New York art phenom Jean-Michel Basquiat (then only 19-years-old) in a quasi-documentary/elliptical urban fairytale of the hip, post post-punk, proto-hip-hop subculcha happenins of the Gray Ladies' early '80s Village scene (the film features such early Village hipsters as Melle Mel, John Lurie, Deborah Harry of Blondie, Lydia Lunch, performance artist Tav Falco, graffiti artist Lee Quinones, Fab Five Freddy, NY filmmaker Amos Poe, Kid Creole and the Coconuts, James White and the Blacks, Arto Linsday and DNA, Tuxedo Moon, the Plastics, and Walter Steding and the Dragon People).


Music in the film (and on the soundtrack) features the Brian Eno curated No New York no-wave era bands like Suicide, DNA, Liquid Liquid and Basquiat's own band, Gray which included pre-filmmaking/acting Vincent Gallo ).

The film (originally titled "New York Beat Movie") was actually abandoned in the '80s due to financing issues, but resurrected in 1999 by producer Maripol Fauque and belatedly released in 2000. Having been lost for many years, the audio for the film went missing and or was unusable. Producers were able to get most of the original cast to re-dub their dialogue, but being that Jean Michel Basquiat died in 1988, spoken word artist Saul Williams was hired to dub Basquiat's dialogue.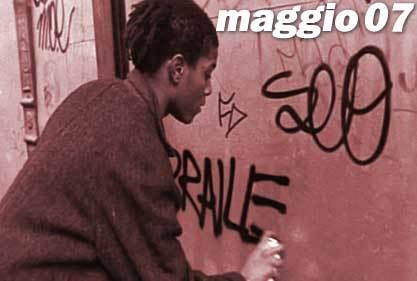 Writer/co-producer Glenn O'Brien said in a stock press release statement: "I feel like a lot of the people in this film should have conquered the world. The film and soundtrack is a great place to learn about the beginning of a scene. If you see something interesting, you can follow it up and it will lead you to other music and other films. There are lots of very important artists who are briefly glimpsed in the film and I urge people to check out the other work of these artists."

Track list
1. Gray – "So Far So Real"
2. Kid Creole & the Coconuts, Coati Mundi – "K Pasa-Pop I"
3. Tuxedomoon - "Desire"
4. Liquid Liquid - "Cavern"
5. DNA – "Blonde Redhead"
6. James Chance – "Sax Maniac"
7. The Lounge Lizards – "I'm a Doggy"
8. James Chance – "Contort Yourself"
9. Gray – "Drum Mode"
10. Lydia Lunch – "Closet"
11. Coati Mundi – "Palabras Con Ritmo"
12. The Lounge Lizards – "Bob the Bob"
13. Pablo Calogero – "Tangita"
14. Kid Creole & the Coconuts - "Mr. Softee"
15. Suicide - "Cheree"
16. DNA – "Detached"
17. Chris Stein – "15 Minutes"
18. Plastics – "Copy"
19. New Day
20. Rammellzee, K Rob – "Beat Bop"
Download: Suicide - "Cheree (Remix)"
Watch: "Downtown 81" trailer