Our belated New York Film Festival review, plus a rundown of all the music used in the film.

Gus Van Sant has been fixated on a minimalist, experimental type of filmmaking since the beginning of this decade ("Gerry," "Elephant" and "Last Days" comprise what people call his "death trilogy") and his approach with his latest effort, "Paranoid Park," is much the same including his penchant for chronological puzzles/time displacement and his fondness for experimental, musique concrète and abstract music (A special 60th anniversary prize went to Van Sant's film at Cannes this year)

About a teenage skater kid that accidentally kills a security guard and tries to keep it secret, as the London Telegraph perfectly puts it, "few American directors rival Gus Van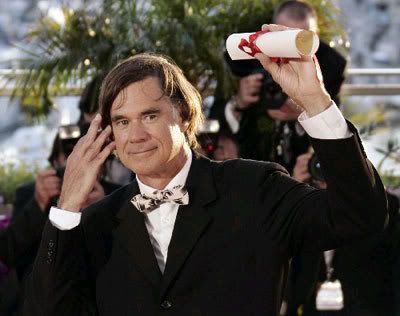 Sant's ability to create lush, beautifully lensed and strangely enigmatic odes to the vulnerability of teenage boys," and this nails it.

Photographed with typical gorgeousness by longtime Wong Kar-Wai associate Christopher Doyle, the film branches out and utilizes some brave and dreamy musical choices by Fellini collaborator Nino Rota (brave as they might be distracting to some cinephiles).


Another notable addition to Van Sant's experimental stage is departed musical collaborator Elliott Smith who wrote most of the material used in his breakthrough film, "Good Will Hunting." Van Sant almost uses Smith's material as lyrical and simple music videos where almost the entire songs play out in full. The Elliott Smith era track "The White Lady Loves You More" is used in a gorgeous slo-motion shot and he does more film cannibalization - this time his own - by once more using Smith's "Angeles," in another minimalist one-shot.


However, aside from Nino Rota (whose collage of music is all over the film, including themes from "Juliet of the Spirits," and "Amarcord," that stand in drastic emotional juxtaposition to the lead characters numbed mindset), the one person you'll think of musically when you walk away from this film is electro-acoustic Portland artist Ethan Rose whose swirling, evocative and lush soundscapes (think the instrumental parts of Icelandic electronic band Múm) are really the centerpoint of the film.

The dense sound design is also bolstered by Montreal electroacoustic musician Robert Normandeau and Francis White's sound installation music "Walk Through Resonant Landscape" which is used to incredibly powerful effect in a shower sequence (again mining his own work, Van Sant used this same sound piece in "Elephant") More traditional music that skate kids would put on comes in the form of punk band The Revolts and hip-hop group Cool Nuts.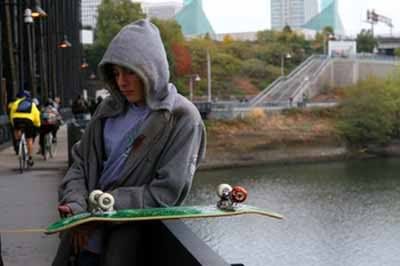 A bit of foreboding country and pop comes from Billy Swan, Cast King and Henry Davies. Indie-rockers Menomena have the distinction of closing out the film.

While the film might not be quite as effective as his past few experiments (his cast plucked from myspace is sometimes amateur-ish), Van Sant does have an ear for the teenage voice and experience and that strength is evident here once again and at the very least the marriage of visuals and music is extremely stirring.

"Paranoid Park" won't hit theaters until March 7, 2008. A 19-song soundtrack disc that covers most of the key tracks in the film is due October 15 in France (you can pay 18 Euros for it) but its U.S. counterpart probably won't be released closer to the March film release.

Music Used In "Paranoid Park"
Nino Rota - "La Porticina Segreta"
Ethan Rose - "Song One"
Robert Normandeau - "La Chambre Blanche"
Francis White - "Walk Through Resonant Landscape #2"
Elliott Smith - "The White Lady Loves You More"
Cool Nuts feat. Six and Aniece - "I Heard That"
Ludwig Van Beethoven - "Symphony No.9, Op 125, Adagio Molto Cantibile"
Cast King - "Outlaw"
Eric Hill - "Guitar Strumming FX"
Nino Rota - "L'Arcobalena Per Giuletta"
Henry Davies - "Tunnelmouth Blues"
The Revolts - "We Will Revolt"
Ethan Rose - "Song Three"
Bernard Parmegini - ""Dedans Dehors"
Ethan Rose - "Song Two"
Nino Rota - "Il Giarino Della Fate"
Nino Rota - "Rugiada Sui Ranocchi"
Nino Rota - "La Gradisca E Il Pricipe"
Elliott Smith - "Angeles"
Billy Swan - "I Can Help"
Menomena - "Strongest Man In The World"

Scenes From Paranoid Park