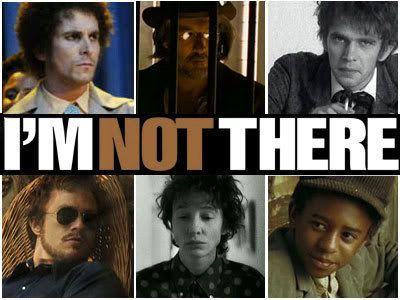 Ok, so "I'm Not There" the Todd Haynes directed abstract biopic based on the life of Bob Dylan (you can't imagine how many times we've written that in some shape or another). We discussed it once or twice; you may have noticed.

Below we have the exclusive audio of Yo La Tengo's take on the Zimmy Blonde on Blonde track "Fourth Time Around." Have a listen.


Things we've written about this film include: A soundtrack review, music from the film, one overall preview of the film with the music the actors sing, one that discusses the actual Dylan originals used in the film, Todd Haynes' thoughts on the film at the New York Film Festival screening, the tracklist, the producers involved on the soundtrack, guest stars, Yo La Tengo's all-star crew, and 400 other posts about all the minutia of this thing [ed. you need to get a life; you've also listed this graph out about 300 times].


Ok, so anyhow, you want to hear this thing, right? Well, we have 5 copies to give away. All one needs to do is email us where the master of the obscure Dylan title track ("I'm Not There") was found (strong hint: the info is all over our site, b) use the search function, c) it was on some famous musician's ranch). Short of that and or if we don't get enough responses (lazy! it's right there), tell us what your favorite Bob Dylan song is and why.

Apart from the big names we've already reviewed and mentioned, I'm Not There OST offers an interesting mix of takes on Dylan songs, from Glenn Hansard and Marketa Irglova's joyous take on "You Ain't Goin Nowhere" (from The Basment Tapes), to Stephen Malkmus and Lee Ranaldo's (with a little help from Nels Cline) melancholy rendition of "Can't Leave Her Behind" (an "Eat The Document"-era song that's never been recorded on an album by Dylan), to Mira Billotte's almost-portentous version (she kind of sounds like Grace Slick) "As I Went Out One Morning," lots of the songs add noteworthy emotional perspectives on Zimmy songs.

One footnote on the soundtrack: Jeff Tweedy's version of "A Simple Twist of Fate" has alternate lyrics that are not from the NY Sessions of Blood On The Tracks, anyone know where they're from? A live version, a bootleg? (thanks to Haskins for pointing this out). Update: Dan from the very excellent FilmBabble blog, points out the answer (collated live versions) in the our comments section. Nice work.

*UPDATE*: Contest officially closed as of 8:27 p.m. on Friday October 26. That was fast!

Yo La Tengo - "Fourth Time Around"
QT Audio/WM Audio /Flash Audio