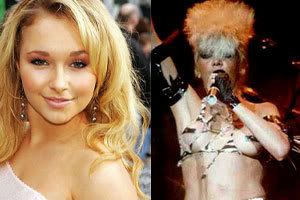 File this with great skepticism under dubious, "we'll believe it when we see it" rumors.


Hollywood actress

Hayden

Panettiere

is set to star in an upcoming 2009

biopic

of punk rock singer

Wendy O. Williams

, the infamous

frontwoman

for the band

Plasmatics

. The film will follow the shock-rocker's life through her troubled upbringing and early New York punk rock scene, ending with her

tragic

death. Producers chose the 18 year-old Heroes star as the lead role to "shock" moviegoers - to live up to Williams name. Film producer Jason Weinberg says, "[Williams] was all about rebellion and shocking people. Why not the Williams legacy shock the world again with Hayden?" Filming is set to begin in early March 2008 with a late 2009 release date. Williams, dubbed the "Queen of Shock Rock", was considered the most controversial and radical woman singer of her time. She committed suicide in 1998 at the age of 49.
God, what biopic won't they do these days? Stop the bleeding, please. Can you imagine
Panettiere

doing shit like this?