As we mentioned, we finally saw Todd Haynes' Dylan film, "I'm Not There," (our first preview here), and there's a ton to say, but first off Haynes was onhand at the New York Film Festival press conference.

Here's the highlights of his conversation. We must say Hayne is a total Dylanologist and massively impressed us with his knowledge, expertise, insight, articulateness and thoughtfulness.

Estimable Village Voice film critic J. Hoberman was onhand to mediate the discussion. Highlights:


- There were originally 7 Dylan characters (there are 6 in the film) in the original script. "There was an additional character named Charlie who got absorbed into the Woody story," Hayne said. "I liked seven; it came up in a lot in Dylan lyrics, it had a Seven Stages of Man logic to it, but I had to stop somewhere."

- As read and reported a million times Dylan gave full approval rights and didn't ask about any details. "What was extraordinary about the deal was that I was afforded the same creative space that it's Jeff Rosen (Dylan's manager) job to secure around Dylan so he can continue to do his creative work which is extremely unusual," he said.

- They gave Bob a DVD of the film, but to their knowledge, "Dylan hasn't seen the movie yet, as far as we know."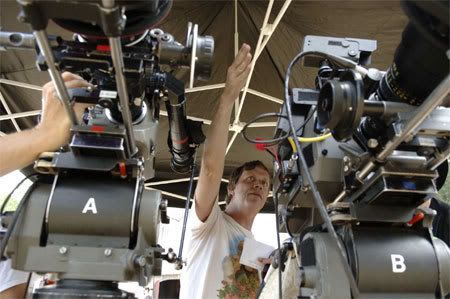 - Haynes worked in Cinemascope for the first time for the film. Multiple film stocks were used for each era. Ben Wishaw's scenes were shot in black and white 16mm; Christian Bale's scenes were shot in Super8 16. "It was the first film of mine that really called for a more panoramic format and it lent itself to an epic, American poem about it in feel and breadth," he said. Blown up in Cinemascope the smaller formats grains and textures were accentuated

- The story was inspired by The Music & Many Lives of Bob Dylan and was co-written by Haynes and Oren Moverman who wrote the excellent and under-appreciated "Jesus' Son."

- The original title of the film is "I'm Not There: Suppositions On A Film Concerning Dylan." Originally Dylan gave Haynes rights only if he would do a film and stage rendition, but the latter idea redirected into Twyla Tharp's Broadway show, "The Times They Are A Changin'."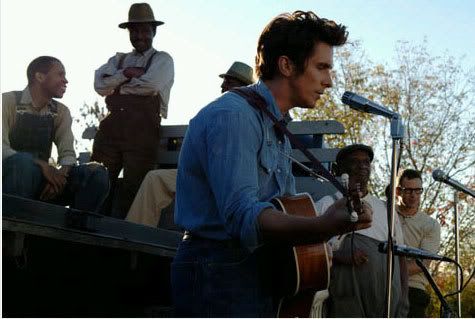 - Haynes knew from the beginning that the Jude Quinn character (played by Cate Blanchett) would be a woman. "It was part of the original concept," he said and while he didn't know who the actress would be initially, "It didn't take long to clear the path and recognize Cate's amazing physical transformations."

- While many critics are referencing "Dont Look Back," Haynes major reference text for Blanchett's character was the other D.A Pennebaker-directed color Dylan doc, "Eat The Document." I insist that the Dylan of one year later in 1966 is distinct [and different from the Don't Look Back 1965 tour]. "In[ 'Document'] you see this strangely dandified hyper anxious creature that exceeds the slightly petulant brat that you see in 'Dont Look Back' challenging journalists. Partly being fueled by a backup band [The Band], the energy and antagonism and really that punk climate that he found himself in and utilized - the animosity fueled his work all the further is so evident in that following year."

- He had no actors in mind when writing except for Charlotte Gainsbourg, her "Frenchness" informed her character.


- The Meticulous Haynes : Haynes gave each actor portraying a 'Dylan' CD mixes, a portfolio books full of Dylans with visual and cinematic references that each of their stories would employ; recording of interviews from specific periods, and films, documentaries, footage AND specific films that had inspired Dylan from each period. "Actors love having that stuff," Haynes said. Talk about thorough.

- Haynes, always one to play and redefine identity and sexuality (themes that have permeated all his work) saw a lot of androgyny in the 1966 Dylan hence one of the reasons of hiring a woman to play that specific part. "For all the ways that Dylan is associated as a guy's artist or a heterosexual kind of icon, his flamboyance and foppery during that time were profound, and it must have been freaky for people at the time," the director said.


Cate Blanchett make an salient point in this weekends upcoming New York Times Magazine cover story that hasn't run, but there's a small preview at Editor&Publisher. "I don't know that it does make sense,"Blanchett said, adding, "I don't think the film even strives to make sense, in a way." Richard Gere, another star, comments: "It's kind of, well, cosmic." Dylan apparently declined to be interviewed for the story (no shocker there).

We also have to give it up to Vulture who have been putting together some excellent Dylan-related features in anticipation of "I'm Not There." We are personally loving them.

- The Ten Most Incomprehensible Bob Dylan Interviews of All Time [Vulture]
- We Are All Bob Dylan: Dr. Seuss Is Bob Dylan [Vulture]
- Who Is Todd Haynes's Mr. Jones? [Vulture]

Todd Haynes: Casting Cate Blanchett as Bob Dylan [at the NYFF]