Ew, we used drop in that verb way all the indie sites do. Shame on us.

Anywoo, we just told you that Jay-Z's cover and tracklist were revealed for his American Gangster inspired-by-the-movie album. According to a DefJam press release, American Gangster the real soundtrack to the Ridley Scott film of the same title, also comes out on November 6 (just like Hov's album).

The album includes tracks by Bobby Womack ("Across 110th Street" apparently now the de rigeur we've got trouble in black American anthem), the Staple Singers, Anthony Hamilton (his track "Do You Feel Me?" is the album's first single), Sam & Dave, John Lee Hooker and despite director Ridley Scott's insistence that Jay-Z shouldn't be used in the film because the movie is a 1970's period piece, a 1991 Public Enemy song, "Can't Truss It" (from Apocalypse 91...The Enemy Strikes Black). As reported by MTV back in the day (3 months ago), Public Enemy Bombsquad producer Hank Schocklee did some of the film's score (he's represented on the disc with four cuts. Marc Streitenfeld provides some more traditional film score, and bluesman Lowell Fulson tackles a cover of the Beatles' "Why Don't We Do It In The Road?"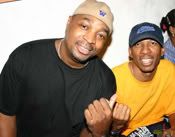 Shocklee was extensively involved in the project and in addition to the original score cuts he created, he produced both Anthony Hamilton tracks and the aforemention PE classic.

As for the film: Denzel Washington stars as Frank Lucas, a courageous entrepreneur and self-made embodiment of the American Dream who comes from nowhere to rule the inner-city drug trade, and Russell Crowe is Richie Roberts, an outcast cop zeroing in on who is outplaying all the familiar Mafia families as he closes in on this unexpected new streetwise player.

American Gangster Soundtrack tracklist
1. Do You Feel Me - Anthony Hamilton
2. Why Don't We Do It In The Road? - Lowell Fulson
3. No Shoes - John Lee Hooker
4. Across 110th Street - Bobby Womack
5. Stone Cold - Anthony Hamilton
6. Hold On I'm Comin' - Sam & Dave
7. I'll Take You There - The Staple Singers
8. Can't Truss It - Public Enemy
9. Checkin' Up On My Baby - Hank Shocklee
10. Club Jam - Hank Shocklee
11. Railroad - Hank Shocklee
12. Nicky Barnes - Hank Shocklee
13. Hundred Percent Pure - Marc Streitenfeld
14. Frank Lucas - Marc Streitenfeld