We're still catching up. The Band once sung, "they say everything can be replaced," and yes, they were right. We finally read the New York Times Magazine piece on The Hollywood Goes West/Daniel Day Lewis, "There Will Be Blood" piece.

Many have already read it, but what stood out to us what this juicy line of info (and yes others have observed this as well):

Halfway through the 60-day shoot, Paul Thomas Anderson realized that the second lead actor, who plays [Day-Lewis's]nemesis, was not strong enough. He was replaced by the versatile young actor Paul Dano, but three weeks of scenes with Day-Lewis needed to be reshot. During "Gangs of New York," Day-Lewis would stay in character and deliberately glare at his co-star, Leonardo DiCaprio, mirroring the contentious dynamic that these men had in the film. While DiCaprio withstood the pressure (and Dano thrived on it) there are reports that the first actor suffered from intimidation. "It just wasn't the right fit," Anderson explained diplomatically.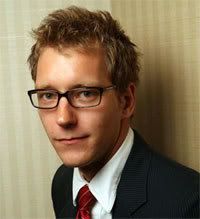 So who was the actor, right? Inquiring minds want to know, well it appears from multiple reports that it was the lesser-known actor Kel O'Neil who was in the 2002 sex-causes consequences film "XX/XY" with Mark Ruffalo and has an upcoming role in Brian DePalma agitprop Iraq provocation "Redacted" (one can say O'Neil was redacted out of 'Blood'). According to some potentially specious reports, Dano was originally scheduled to play a lesser role, but then PTA expanded his role. We'll leave that one be for now.


But poor O'Neil, it sucks to be called out like that (and yes, we're contributing), but it is an interesting factoid. Daniel-Day Lewis can be a pretty terrifying and he obviously stays in character throughout his shoots which can be more than unnerving when he's playing a vicious bastard like the one he appears to be "There Will Be Blood."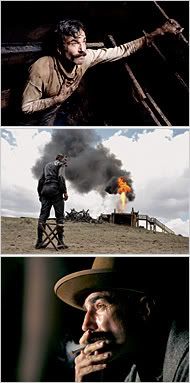 How obsessive is Day-Lewis in his commitment to a role? During "The Last Of The Mohicans," he "built a canoe, learned to track and skin animals and perfected the use of a 12-pound flintlock gun, which he took everywhere he went, even to a Christmas dinner." During 1998 "My Left Foot," Day-Lewis trained for eight weeks to master putting a needle on a record with his foot as if he was stricken with cerebral-palsy like the character in the film.

"I need to create a particular environment," he told the Times about his slow and methodical approach to character immersion. "I need to find the right kind of silence or light or noise. Whatever is necessary — and it is always different. I know it sounds a little fussy and a little ridiculous, but finding your own rhythm is one of the most important things you can discover about yourself. And you have to observe it. As actors, we're all encouraged to feel that each job is the last job. They plant some little electrode in your head at an early stage and you think, Be grateful, be grateful, be grateful. So, it's not without a sense of gratitude that I work. But I couldn't do this work at all unless I did it in my own rhythm. It became a choice between stopping and taking the time I needed."

When Day-Lewis first signed on for 'Blood' (which took 2 years to finance - plenty of time for his obsessive research), director Paul Thomas Anderson told him to watch the sort-of existential western "The Treasure of Sierra Madre."

"It's my favorite movie," Anderson said. "All of life's questions and answers are in 'The Treasure of Sierra Madre' - "It's about greed and ambition and paranoia and looking at the worst parts of yourself. When I was writing 'There Will Be Blood,' I would put 'Madre' on before I went to bed at night, just to fall asleep to it."

The amazing-looking new TV spot for 'Blood.'