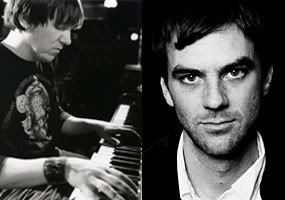 Speaking of Paul Thomas Anderson, turns out the long lost Elliott Smith short that PTA directed way back when is finally coming out via the Wholpin DVD online magazine.

However, due to PTA's "There Will Be Blood" hectic promotional duties, this rare short won't be released until mid-2008 in their sixth issue.

The short, shot a few years ago, obviously before Smith's untimely death sounds typically wacky - or at least will showcase the silly sense of humor Elliott was renowned for with close friends, but is pretty unknown and undisplayed to the general public. In the piece the dearly departed musician plays a Rastafarian basketball player. Sounds pretty great, right? Apparently PTA has to dig it up in some 4 storage units in L.A., but he has agreed to let the magazine show it. Elliott was a big basketball fan. So much so that Ben Folds wrote a song about him with a line about his basketball prowess and his propensity to throw elbows.


"We were at Sunset Sound, and on a break we were playing basketball, and he had all these wigs and costumes. He brought out this pirate hat that somehow had an eye patch built into it. Anyway, we devised a game where we all had to take turns doing a lay-up wearing the pirate hat and patch, and we each had to do our best pirate impersonation while trying to make the shot. It was ridiculous and somehow so sweet! At least he had a light side in there at some point. I'm going to hold on to that image of him hobbling towards the the basketball hoop in pirate garb, shouting, 'Ahrrrrr!', and laughing." - Joey Waronker drummer on a few XO tracks.

Can't wait; someone send us a copy when it's finally released, please.
In the meantime, my buddy Autumn de Wilde's new book "Elliott Smith" is out now and Rolling Stone has some of her exclusive photos from it as a preview.

Watch: Elliott playing Rachmaninoff's Prelude in C#m on piano (YouTube)
Watch: Lucky Three (YouTube)
Watch: Strange Parallel documentary (YouTube)
Watch: "Miss Misery" on piano (YouTube)