Thank god for second part of the Sundance Film Festival line-up announcement (films that are out of competition). We couldn't even get out of bed for the first announcement (films in competition) which was pretty mediocre and underwhelming. There are some notable films though. Someone buy us a hotel and a flight and we'll go cover this thing. You know our coverage would be the bestest.

Here's the Playlist breakdown of the films worth watching and or keeping an eye on.

Patti Smith: Dream Of Life: Everyone gets their day in the sun for an intimate portrait documentary, right? Well, so does Patti Smith. Expect lots of poetry reading and mentions/appearances by Allen Ginsberg.

Gonzo: The Life And Work Of Dr. Hunter S. Thompson: This documentary focuses on the good doctor's amphetamine soaked, wild turkey hey day of 1965-1975 with lots of never before seen footage, home movies, audiotapes, and passages from unpublished manuscripts.


Be Kind Rewind: You've heard of this one. Michel Gondry's ode to VHS is about a video store that gets magnetized and the bumbling store clerks (Mos Def and Jack Black) have to fix it by re-creating and re-filming their own versions of the erased tapes so their senile boss (Mia Farrow) doesn't notice.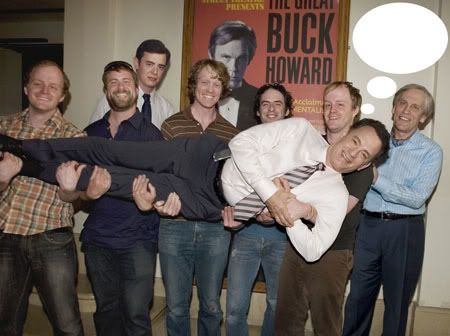 The Great Buck Howard: Colin Hanks hits rock bottom answering an ad to become a washed up illusionist's (John Malkovich) personal assistant. Emily Blunt and Tom Hanks also star. The film is probably more well known at this point for the participation of Clap Your Hands Say Yeah!, the adnoidal indie-rock band who wrote the score and also appear in the film.

Slingshot Hip-Hop: Palestinian rappers form alternative voices of resistance within the Israeli-Palestinian struggle. At least they're not in Iran.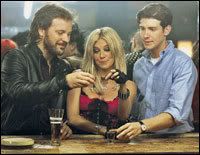 The Mysteries of Pittsburgh: Known as the film shot on location in Pittsburgh and provoking the ire of the city when star Sienna Miller infamously called the city "Shitsburg."

U2 3D: Sorta like Michael Jackson's "Captain Eo" only in 3D, which still wasn't multi-dimensional enough to contain Bono's ego.



Funny Games: Brutalizing Austrian mindfuck director Michael Haneke (go run and see "Caché," and "The Piano Teacher," but be forewarned they are brutal), already made this excruciating film about two psychotic boys who take a family hostage back in 1997. Somehow, Hollywood (dollars likely) convinced him to remake and cannibalize his own work only with American namebrand recognizable actors (Naomi Watts, Tim Roth). Let's face it though, Haneke's original wasn't one of his best.

CSNY Déjà vu: Aged David Crosby, Graham Nash, Stephen Stills and Neil Young's "Freedom Of Speech" concert tour. 70% extra anti-war sentiment included. It's directed by Bernard Shakey, Young's filmmaking pseudonym of choice.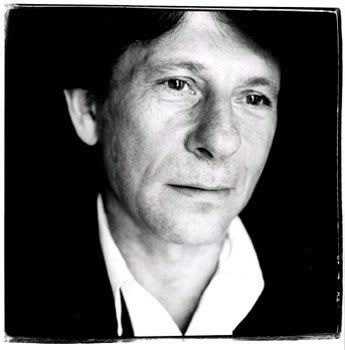 Roman Polanski: Wanted And Desired: A documentary that examines the early 1970s scandal and private tragedy of venerable filmmaker Polanski who's wife Sharon Tate was murdered by the Manson family in 1969 and later fled the U.S. in 1978 after pleading guilty for having sex with an underage girl. He's remained in European exile ever since.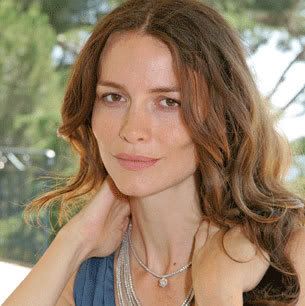 The Guitar: Former model Saffron Barrows has two months to live so she decides to follow her dreams. Presumably they include learning the guitar.

Sugar: Remember the stupendous sleeper indie hit of last year "Half Nelson"? This is the follow-up by filmmakers Anna Boden, Ryan Fleck. This time they chronicle the journey of a Dominican baseball star recruited from his native country to play in the U.S. minor leagues.

The Wackness: A teenage drug dealer trades pot for therapy sessions with a drug-addled psychiatrist that stars Josh Peck, Ben Kingsley, Famke Janssen, Olivia Thirlby, Mary Kate Olsen and Method Man. Could be fun.

Henry Pooole Is Here: Notable cause it's from prominent video director Mark Pellington (videos For U2, Foo Fighters, Pearl Jam, NIN). Stars Luke Wilson and Radha Mitchell.

Choke: Sam Rockwell and Anjelica Huston star in an adaptation of Chuck Palahniuk's ("Fight Club") novel about a sex-addict who fakes choking to death in restaurants to feel loved. Music on the soundtrack includes cuts by Radiohead, Clap Your Hands Say Yeah!, Fiery Furnaces and a score by ex-Shudder To Think frontman Nathan Larson.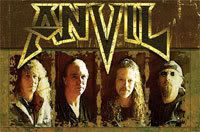 Anvil! The True Story of Anvil: If you don't know Canadian deities of metal Anvil, oh man, you will soon. Expect this to be fucking awesome. The documentary features presumably glowing interviews by Slayer, Metallica and Anthrax. The band re-team here to record their 13th album. Probably like "Some Kind of Monster," only 100x more pathetic/awesome.

Other films include, mustachioed do-gooder Morgan Spurlock's follow-up to 2004's "Super Size Me," ingeniously called "Where in the World is Osama Bin Laden?," talk show asshole Bill Maher's directorial debut "Sleepwalking" with Charlize Theron, Alan Ball's - of "Six Feet Under," "American Beauty" fame - directorial debut "Towel Head: F.K.A Nothing Is Private," Barry Levinson's "What Just Happened?" with the rather large cast of Robert DeNiro, Bruce Willis, Sean Penn, and Catherine Keener, Nick Cannon in "American Son," Winona Ryder and Wes "save my career" Bentley in "The Last Word," Paul Schneider's "Pretty Bird" with Billy Crudup, Paul Giamatti and Kristen Wiig. Also, David Bowie appears in the Josh Harnett movie, "August," P. Diddy will star in the theatrical version of "A Raisin in the Sun" and LL Cool J will co-star with William H. Macy in "Deal."

We probably won't see you in Sundance, but whatever, have a good time with the Mormons.