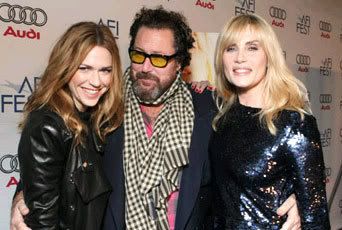 Julian Schnabel's "The Diving Bell & The Butterfly" is one of our favorite films of this year. While music isn't necessarily an overt element of the film, it is integral.

Schnabel actually served as his own music supervisor on the film and there are some great choices and tracks by the Velvet Underground, U2, Joe Strummer & the Mescaleros ("Ramshackle Day Parade"),The Dirtbombs, Tom Waits ("All The World Is Green") and score appropriations from Stanley Kubrick's "Lolita" and Francois Truffaut's "The 400 Blows." The New York Post caught up with the New York artisan/director and he gave few quotes and also reminded us of some of the great appropriations he used in his last film, "Before Night Falls."

Ever the namedropper, Schnabel told ComingSoon that he had always intended to use u2's "Ultra Violet (Baby, Light My Way)" (from Achtung Baby) in a film. "You know, Bono's a friend of mine and we drive around and he sings to me sometimes in the car when we are driving." Congratulations? From the Post:

"I always listen to music, carry it around with me. I know [certain songs] are going to pop up [in my films] some time or another. I always thought [the

Velvet Underground

's] "Pale Blue Eyes" was going to play in that scene on that boat."

Paul

Cantelon

[who composed the score] was a child prodigy and then was hit by a car and had total amnesia. Years later, he was playing the piano and said, "Hey Mom, listen to this," and she said, "That's Bach." So he identified with [the main characters] life and his problem. One day he came to me with these preludes he had written. One of them was perfect, so that was it.

There's some

Nino

Rota music [in the film] and also

Nelson Riddle

playing the theme to "

Lolita

." Whenever I would watch the dailies, I'd play music and see how things fit. In "

Before Night Falls

," I used [German ambient band]

Popul

Vuh

's music from "

Aguirre: The Wrath of God

" and there was another bit of

Ennio

Morricone

from "

The Battle of Algiers

."
While not featured in the film, the new American trailer features

Explosion In The Sky

's "Your Hand in Mine (with Strings)" (taken from the "

Friday Night Lights

" soundtrack). Songs in the trailer

and

in the film include the

Dirtbombs

' cover of "Chains of Love," and

Ultra Orange

with

Emmanuelle

Seigner

's (

Roman Polanski

's wife who also stars in the film) "Don't Kiss Me Goodbye." Of note: Johnny

Depp

was originally scheduled to star in 'Diving Bell,' but then got wrapped up in the '

Pirates

' films and was unavailable.

Asked how he found the

Dirtbombs

song, Schnabel said, "A friend of mine who's a skateboarder left [the CD] at my house in

Montauk

and I picked it up by mistake. I didn't even know what it was and I was in France and I stuck it in and I heard "Chains of Love" and I thought what the hell is this, this is a great song, and they're great," the director told

ComingSoon

.

There's no word on a soundtrack disc yet, but here's hoping one gets eventually released.


Songs Used In
"

The Diving Bell & The Butterfly"
"Theme for 'The Diving Bell & the Butterfly'" by Paul Cantelon
"La Mer" - Performed by Charles Trenet (opening credits)
"Je Chante Sous La Pluie" (French adaptation of "Singin' in the Rain")
"Chains of Love" - Performed by the Dirtbombs
"Concerto for Piano in F Minor, BMV 1056 - Largo" (J.S. Bach)
"Napoli Milionaria" (Nina Rota)
"All the World is Green" - Performed by Tom Waits
"Pauvre Petite Fille Riche" (Vline Buggy/Hubert Giraud)
"Lolita Love Theme" (Robert J. Harris)
"Ultra Violet (Light My Way)" - Performed by U2 (Lourdes flashback/Day scenes)
"Don't Kiss Me Goodbye" - Performed by Ultra Orange with Emmanuelle (Lourdes flashback/Night scenes)
"Pale Blue Eyes" - Performed by the Velvet Underground
"Happy Birthday to You" (Patty & Mildred Hill)
"Quatre Cents Coup" - title track from the Francois Truffaut film
"Ramshackle Day Parade" - Performed by Joe Strummer & the Mescaleros (End credits song #1)
"Green Grass" - Performed by Tom Waits (End credits song #2)

"

The Diving Bell & The Butterfly" trailer