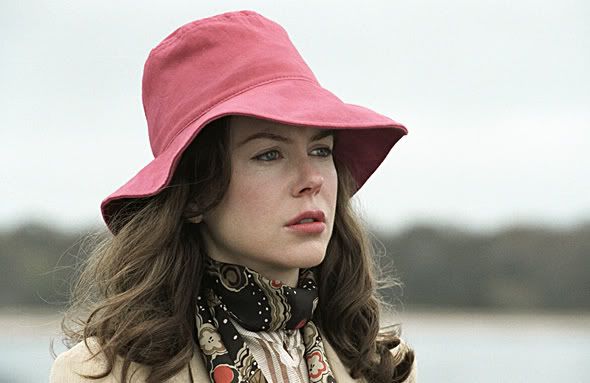 Our belated New York Film Festival review.

We've been rooting for Noah Baumbach for years. Most of his early films were extremely clever and droll, but problematic (though"The Squid & The Whale" is pretty fantastic), yet even when he's fallen flat ("Mr. Jealousy"), he's always showcased a mountain full of promise.


Early reports for his 5th feature "Margot At The Wedding" were mixed and that got us a little worried.

The story of 'Margot' is about two sisters and their incredibly dysfunctional family and relationship. The sisters are estranged, but Margot (Nicole Kidman), an semi-successful and uptight Manhattan author, comes up to visit her bohemian and freespirited sister Pauline (Jennifer Jason Leigh) who's getting married at, and currently living in their old parents Hamptons-era house.

The problem is that Pauline is getting married to a less-than-impressive loser shlub named Malcolm (Jack Black) and not only does Margot disapprove, she basically does everything in her power to try and convince her sister from going through with the wedding. And thus the story begins.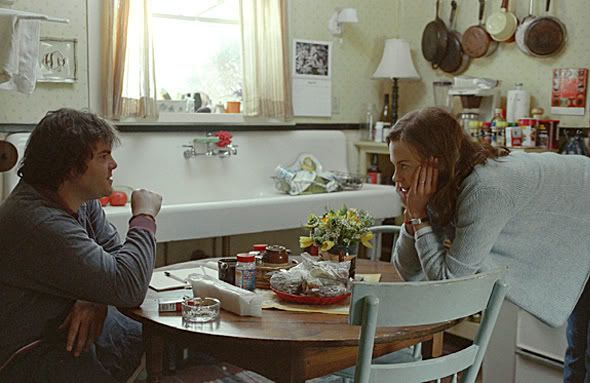 But rather than stock, dysfunctional family comedy, 'Margot' gets deep, raw and straight to the bone with realness. The script and characters are mean-spirited and brutal, the characters pull no punches and the film is painfully funny and painfully emotional.

Baumbach's always had a flair for sharp dialogue, witty repartee and mixing awkward observational humor with smarty pants references and painful moments (think Jeff Daniel's heart attack scene in "Squid & The Whale": "Don't you remember the last line of Godard's "A Bout De Souffle"? Belmondo calls Seberg a bitch. 'Degolas.' We saw it at the Thalia with the Dicksteins. I got you in for the children's price. You were pregnant with Walt."), here his knack for female behavior and sisterly friction is uncanny.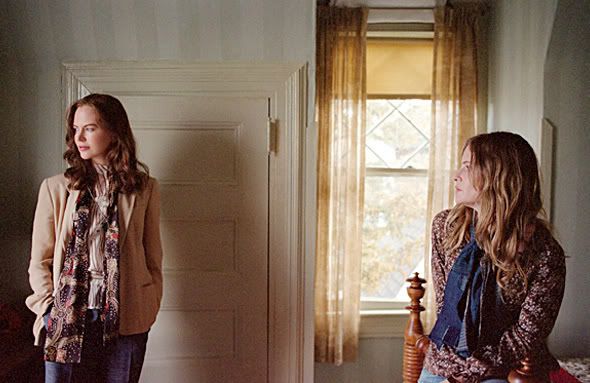 The sisters betray one another, bare family secrets, thrash at their relationship, rivalries and old wounds yet still laugh deeply and warmly together and the refrain from both of them is "she's my best friend," is both very real and very ironic. These contradictions, juxtaposition, these sticky and complicated interactions are what make Baumbach's film feel so alive and so very real. We had that painful gut reaction to the best and worst times of visiting your family on a disastrous, but semi-enjoyable weekend - much like most families are.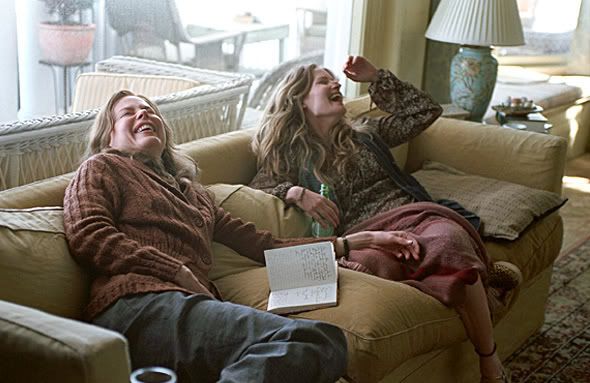 There's some near-excruciating scenes, Margot's character is so cruel in moments, but it's as viciously funny as it is emotionally hard to watch sometimes.

John Turturro does a brief cameo as Margot's estranged husband and the film is near note-perfect outside of Jack Black who is a little miscast and falls into the trap of being "Jack Black" at times (interestingly enough, it is Black who sought out Baumbach for a role in this film).


Visually and cinematically the film is assured and has no traces of the flat direction of Baumbach's early, learning-on-the-job films, that were well-written, but bland cinematically (the swimming scene here is one of his best so far). The grayish, blue naturally-lighting look of the film does give off shades Bergman and though he's much more vicious and less goofy then Woody Allen, perhaps Baumbach has become the heir apparent to the affluent, and educated New York screenwriting voice.

Musically there's not much that you're going to notice within the film, but the folky soundtrack itself is rather fantastic (just pretty subtle throughout). There are a few musical moments though; Kidman's son awkwardly singing Blondie's "Sunday's Girl" in a girlish falsetto when he thinks no one is noticing; an exchange about old records they haven't heard in years between Jason-Leigh and Kidman that references King Crimson*, the Pixies, REM and X. Jack Black's character mentions he once played with Ric Ocasek and even drops a stoner memory loss reference ("I can't remember the name of Motley Crue's bassist. Wait, Mick Mars!"), but don't be worried, the film is not cluttered with lame pop culture references. The only songs prominently heard are Fleetwood Mac's "That's All for Everyone" and Karen Dalton's excellent and bittersweet, "Something On Your Mind" that closes out the film.

In a perfect world, Nicole Kidman, Jennifer Jason-Leigh and Baumbach's screenplay are all going to score Oscar nominations, but this isn't a perfect world and many people are already complaining about the film's meanspiritedness; many are just finding this film too dark for some reason.

Bitter, trenchant, biting, funny and melancholy, "Margot At The Wedding" is not only fantastic, it's one of our favorite films of the year. [A]

This excellent Jorma Kaukonen song "Genesis" used in the film really sums our feelings afterwards; it's really bittersweet. PS you can download the 'Margot' screenplay for free and legally within this post. *Of note, King Crimson's Robert Fripp noted on his blog on his blog a few months back that a KC track was requested for licensing by Baumbach. We've noted the Crimson album reference, but honestly can't say whether we heard a track in the film (they're certainly not on the soundtrack disc).