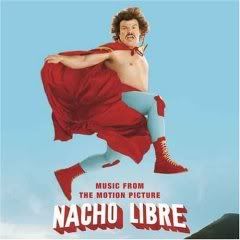 For whatever reason, Beck's inclusion on the "Nacho Libre" soundtrack passed us by when this 2006 soundtrack came out (this was pre-Playlist blog, but we still tended to notice these things). In fact, not a lot of people seemed to make mention of it either from our recollection. Scanning around now, it seems it passed many people by? You won't find a regular review on Amazon (other than user reviews) and you won't find one on AllMusic.com either. Weird.

Maybe the reason was the ugly controversy surrounding the soundtrack. Director Jared Hess originally wanted Beck to compose the entire film. A fan of Hess' "Napoleon Dynamite" Beck accepted, however, Paramount didn't totally dig Beck's plaintive and simple acoustic style (think Dylan's "Pat Garett & Billy The Kid" soundtrack) and instead they asked Danny Elfman to compose the score (behind Hess back, yikes).
According to JoBlo, who did some investigating at the time, "[The Studios] hope was that they could have Elfman surreptitiously record portions of the score then using those samples to convince Hess to use his work," and apparently they did just that.

Credit issues got ugly. Elfman wanted sole credit, Hess wasn't having it, Elfman quit and requested his name pulled off the project. In the end, a deal was struck to keep Elfman, Hess and Beck happy.

But Beck completists should take note. Ever after all this, six Mr. Hansen tracks made their way into the film, but only three of them were ever released for this soundtrack (the additional songs are titled "My Heart Is with the Children," "Holy Man" and "Return of the Luchador"). Add that to your list of Beck tracks you'll need to one day excavate (and maybe there's more Beck material from that film that wasn't even used in the film? It's very likely).

Other notable cuts on the soundtrack were Asdrubal Sierra's (as Asdru Sierra) version of "Bat Macumba" a song usually know as an Os Mutantes hit that was originally written by fellow tropicalians Gilberto Gil & Caetano Veloso. Veloso also had one of his original songs on the album.

Download: Beck - "There is No Place In The World"
Download: Beck - "10,000 Pesos"
Download: Beck - "Tender Beasts of the Spangled Night"
Listen: More tracks from the soundtrack at Myspace (Hombre Religioso by Mr. Loco rules).