Ok, so New York critics apparently took advanced irony in college. Everyone in their right minds basically has run screaming in the opposite direction from Richard Kelly's woefully misguided political, pop culture satire "Southland Tales," right? (context and backstory on the film here)


The film, which mixes Revelations 101, muddled politics, misguided sci-fi conceits, convoluted time travel ideas, winky pop-culture lampooning, and weak film-noir homages in a big bloated stew (our review), currently stands at 44% on Meta-Critic and 43% on Rotten Tomatoes (as of 12:30 p.m. on 10.16.2007). The latter's consensus? "Frustratingly incoherent and unpolished."

Ok, so it is wildly ambition and some have applauded that and we suppose we support the big dreamers too, but this is ambition that reaches for big stars in the sky and then embarrassingly trips and falls down, wipes out and falls flat on it's face in front of a crowd of laughing gawkers.


We remember when a movie publicist friend of ours came this ___ close to having to do promotion for this absurd abomination and she was basically terrified because she thought, "How the hell am I supposed to sell this turd?"

Well, someone sold it. And a lot of major players in the New York critics have gone down hook, line and sinker and frankly, we're pretty surprised.

The New York Times, Manohla Dargis: "Funny, audacious, messy and feverishly inspired look at America and its discontents."

Village Voice, J. Hoberman : "In its willful, self-involved eccentricity, Southland Tales is really something else. Kelly's movie may not be entirely coherent, but that's because there's so much it wants to say.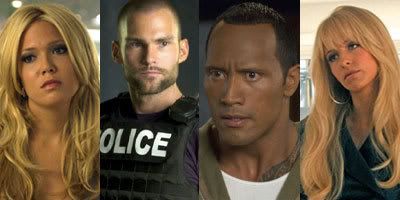 Time Out New York: "Southland Tales is one of the smartest, funniest, most audacious—and most mournful—films of the year."

Wow, the latter is just high as a kite. Ok, we're not like campaigning against the film, but seriously? "Southland Tales" opens in limited markets this weekend. May god have mercy on its soul and the critics that lauded it. And no it's sort-of decent soundtrack (songs by the Pixies, Moby, Blur, Jane's Addiction) can't save it either.