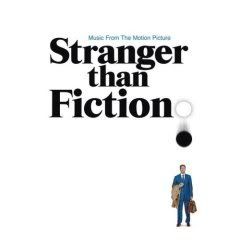 By now you probably think we have a man-crush on Brian Reitzell we've written about him so much (he recently just composed the score to the horror flick "30 Days Of Night").

What can we say dude has good taste - Sofia Coppola knows this, she hires him to be her music supervisor on every film (think the excellent soundtracks of "Lost In Translation," The Virgin Suicides," "Marie Antoinette")

In the liner notes for the "Stranger Than Fiction" soundtrack album, Reitzell wrote:

"When I was approached to do the music for 'Stranger Than Fiction,' I thought it might be the perfect occasion for Britt Daniel and I to collaborate...I was basically scoring the film with Spoon songs - it created a kind of sonic thread that had just the right amount of nervy melody and rich, simplistic tone I thought suited Zach's story and Marc's vision of the film. The actual 'job' of scoring that Britt and I were so excited about doing together became a much easier task since the existing and newly remixed music worked so well.For this soundtrack album, it seemed appropriate to include the full vocal versions of the songs so you can hear them in all their glory as the band originally intended."
Download: Britt Daniel & Brian Reitzell - "Writer's Block"
Download: Britt Daniel & Brian Reitzell - "Flours"
Download: Britt Daniel & Brian Reitzell - "Audtior"
Download: Spoon - "The Book I Write"