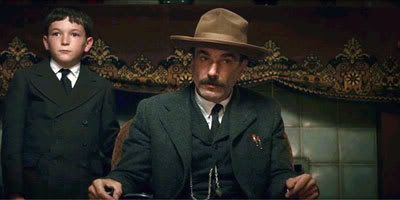 Even more soundtrack previews today.

We've managed to get our hands on two tracks from Radiohead's Jonny Greenwood's score to Paul Thomas Anderson's "There Will Be Blood," which at this point of the year is pretty much at the top of everyone's most anticipated list.


Both tracks are on the haunting, disturbing side of this score with "Proven Lands" utilizing pounding timpani and spidery taut violins building to a tense crescendo (you can hear some of it in the most recent trailer). The titular track is more nervous swooshes of strings that cut in and cut out abruptly and move into agitated discordance. Every moment of the score we've heard here and in the trailer bodes for a feverishly unsettling experience (but in a good way).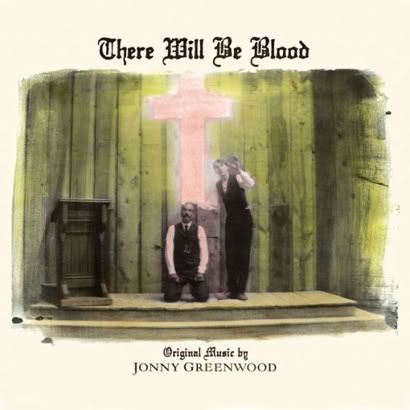 Having been influenced by atonal composer Penderecki and having had PTA think of the score as a near-horror film, this one is sure to be nerve-wracking. "Sometimes Paul would describe it close to the horror genre," Greenwood told EW recently. "We talked about how 'The Shining' had lots of Penderecki in it.

Daniel Day-Lewis obviously looks quietly terrifying in this thing and PTA has high praise for him although he had some personal trepidation at first. "Daniel's attack on the role was quite intimidating at first," Anderson told the London Times recently. But it became clear to me that it wasn't anything outlandish or strange. He's still in there, to the point where we can communicate. The misconception would be that it makes it harder to work with him, as a director, but it's actually much, much easier. You always think, 'My God, it would be great if that person could leap off the page and be right there and I could talk to him' – and then you have it."

New Soundtrack Songs Added/Tracklist Changed
PS, two more tracks, "Future Markets" and "Open Spaces" can be previewed over at Nonesuch radio. Also, it seems like the tracklist has changed slightly. The track "Smear" has either been dropped from the soundtrack. In it's place is "Stranded the Line," plus an 11th track, "Prospectors Quartet" has been added. Sucks for fans that wanted to hear more of the "Popcorn Superhet Receiver" score (from which "Smear" came from), and Greenwood fans in general as the track was almost 10:0o minutes long and the new one is only 2:20 (maybe this means 'Popcorn' might come out as an album on its own?).

Those dying for all details take note: Tracks 3 and 4 performed by Martin Burgess, violin; Caroline Dale, cello; and Michael Dussek, piano. Tracks 7 and 9-11 performed by the Emperor Quartet: Martin Burgess, violin; Clare Hayes, violin; Fiona Bonds, viola; William Schofield, cello. All other tracks performed by the BBC Concert Orchestra conducted by Robert Ziegler.

We updated the tracklist where we originally published it if you'd like to look (originally there were only 10 tracks, see the out of date Amazon listing).