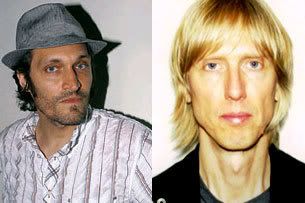 More old-ish news. Filmmaker/ musician / sperm donor / real estate entrepreneur /renaissance man Vincent Gallo has teamed up ex-Hole frankenstien guitarist Eric Erlandson to form the musical project Rriiccee.

The mostly improv-friendly group apparently does not perform pre-written music and is never limited to the boundaries of one musical genre (isn't that nice). Evidently Rriiccee has no recorded music and has no plans on recording a commercial release.

Awesome, way to promote yourselves guys.

Gallo commented on what it is Rriiccee is actually trying to do. "Improvisation is not a good word for what we're doing. It's more a gesture of composing and performing at the same time, always hoping to avoid musical cliché or jamming. We've chosen not to go into a studio in a traditional way like other bands have done in the past. Instead, we've chosen to remain open, to grow and change more naturally, and when we play live, the music is often created during the performance. If we choose to record a performance, the recording itself is only evidence of that creative moment. The purpose of recording then, is to listen back for enjoyment."

Something tells us this group is headed for the top of of the charts. Good luck you both. Tour dates for this wunderkind band have been announced.

What we really want to know is when is Gallo making another movie?